Cuddly octopuses help Scotland's premature babies feel safe
The soft tentacles of the little creatures have been helping to soothe tiny new arrivals.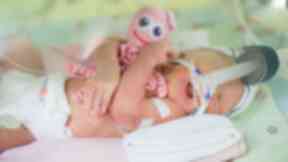 When the world seems just a bit too overwhelming it can help to have a friend there ready with a big hug.
And if that little friend happens to have eight whole arms to cuddle you with then all the better.
Just over a year ago, a neonatal ward in Aberdeen welcomed in hundreds of cuddly octopuses as gifts to help soothe their precious patients.
Made by the voluntary group Octopus for a Preemie, the little tentacled creatures instantly proved invaluable on the ward as comforters for babies at risk of anxiety or stress.
Research has shown the crocheted tentacles help remind them of their umbilical cords and of being inside their mother's womb, which in turn helps them feel safe.
As Aberdeen neonatal nurse manager Nicole Bauwens said after their arrival, the octopuses are great comforters for the tiny babies.
"The spiralled tentacles are reminiscent of mum's umbilical cord in the womb and instil a feeling of warmth and safety," she said.
"It is wonderful watching the babies interact with these soft, woolly creatures."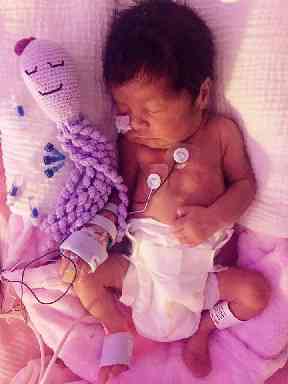 At the time of the little cuddle buddies arrival in Aberdeen, there were around 3500 volunteers crocheting the octopuses for the vulnerable babies.
A year and five more hospitals later, and there are now more than 23,000 volunteers donating their time and their hearts.
"It has absolutely exploded," says Scotland co-ordinator Maxine Lawson.
"The group has just grown far beyond our expectations. We now supply 77 hospital units.
"Our hope is to eventually supply every premature baby unit if we can get enough octopuses in to do it."
Around 5800 babies are born premature or sick in Scotland every year and the volunteers are keen to offer their creations to all of them.
The more crocheted donations the group receive, the bigger they can grow.
Run through a Facebook group, in a sort of octopus network, new members are welcomed in, provided with a crochet pattern, and guided through the octopus creation process.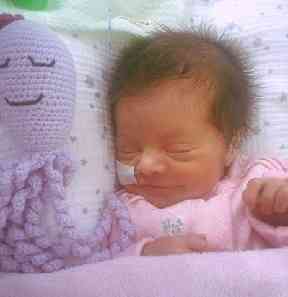 The standards each little octopus has to meet though are exceptionally high.
Because they are being gifted to such tiny, vulnerable patients, each stitch has to be tiny, no stuffing must escape, the size of all the tentacles has to be just right and only the best cotton can be used.
Although the images make them look quite large, the octopuses themselves are actually not that big at all - they just seem bigger because of the tiny hands holding them.
"These little ones are tiny and their lungs might not be working properly yet so it's vital there are no loose fibres they could breathe in," explains Maxine.
Each octopus is sent to the group admins and tested thoroughly, before being prepped for delivery and gifted on.
Each octopus is carefully washed at a minimum of 60C to limit the risk of infection in the incubators.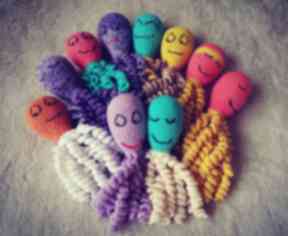 "One of the questions we get asked is what we do with the ones that don't pass because a lot of love has gone into them,"says Maxine.
"Instead, we have a team of volunteers who carefully crochet wings for these little octopuses - they are then gifted to bereavement charities who use them in memory boxes for parents who have lost a child.
"The octopuses who pass get their water wings and go to the wards - the ones who don't get their angel wings and go on a different journey with their angel baby."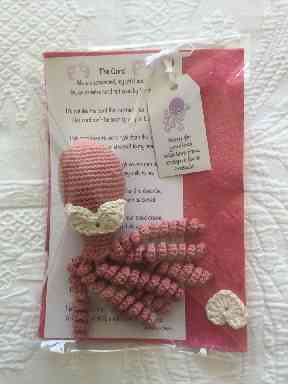 The network of volunteers has grown into a very social gathering.
Organisers now hold little meet ups of octopus makers across the country in cafes and pubs where members swap tips on tentacles and colour suggestions.
"We're forming friendships all over the place," adds Maxine warmly.
Anyone looking to help out in making an octopus can joint the Octopus for a Preemie group here online and members will help them to get started.
The group are keen to stress the octopuses are not toys but a calming tool.
When the babies get strong enough to put things in their mouth, the little octopuses are taken away again to ensure they don't become a choking hazard.
The real challenge the group have faced is people abusing their crochet pattern, taking it and trying to make it on their own then selling them on eBay.
The dangers are very real - with no quality control, the octopuses being sold risk harming those they are gifted to.
"It's awful," says Maxine. "It's a real worry for us and we feel that these people are taking advantage of vulnerable parents. There is a reason we are so strict with our health and safety."
People are warned to only accept octopuses that have been stringently tested before giving them to a vulnerable baby.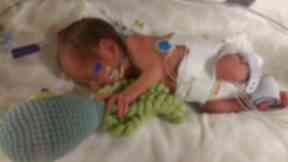 "They are our most vulnerable of human beings and they're so precious, they really are," says Maxine.
"Hearing from parents that they don't feel so guilty leaving their baby once they can see that little octopus with them, that means everything.
"They're able to leave their baby with a little friend and that can help them feel more at ease.
"It's all about big hearts and helping these tiny babies feel safe."
Download: The STV News app is Scotland's favourite and is available for iPhone from the App store and for Android from Google Play. Download it today and continue to enjoy STV News wherever you are.