NHS at 70: Pioneering doctor who fought for neurological care
Professor Norman Dott helped set up Edinburgh's neurology department in 1960.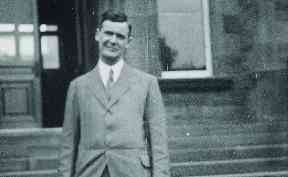 For almost 60 years, the Department of Surgical Neurology at the Western General Hospital in Edinburgh has been at the forefront of treating patients with neurological issues and operating on some of the most fragile parts of the body.
An important part of Scotland's medical history, it was built following the decision to set up the National Health Service in 1948.
Neurology had fought to be recognised as a medical specialism in Scotland, and it was the work of Professor Norman Dott which arguably paved the way for the groundbreaking facility built in 1960.
Jon Stone, a Consultant Neurologist at the Department of Clinical Neurosciences at Edinburgh's Western General Hospital has been interested in Dott's work for a number of years, his portrait still hung in the facility and an academic building co-named after him.
"I find it interesting how charismatic medical leaders like Dott can set high standards in a department, which can last long after they retire, even when those standards have been passed through several generations of surgeons and physicians," he explains.
"We are particularly thinking about Dott this year as we prepare to move to our new building at the Royal Infirmary after 60 years in the one that he planned and built."
As the NHS prepares to celebrate its 70th birthday, the work of Professor Norman Dott remains an integral part of the story to make neurology a first class specialism in Scotland.
Biographers have highlighted how Dott's life could have been very different had it not been for a motorcycle crash aged 16.
With an engineering apprenticeship and WWI on the horizon, he could have chosen a different career, joined the RAF during the conflict or even perished during the war.
Yet the accident left Dott in chronic pain and disabled, unable to pursue the avenues which had once been open to him.
In fact, Jon muses that "experienced patients can become better doctors".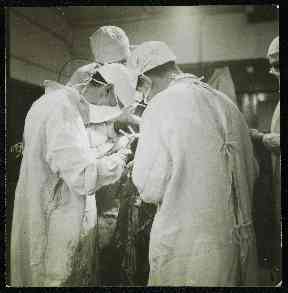 He instead enrolled at the University of Edinburgh to study medicine and graduated with a M.D Ch.B in 1919.
Soon his interest would be piqued by neurology, which would lead the young doctor to be one of Scotland's most respected clinicians in the decades to come.
"My understanding is that he became interested [in neurology] after doing some research on endocrinology (study of hormones) with Professor Sharpey-Schafer who had recognised and named insulin (and adrenaline)," explains Jon.
"One endocrine condition, pituitary tumour, involves enlargement of the pituitary gland at the base of the brain.
"He went to Harvard in 1923 for a year to study neurosurgical techniques with Harvey Cushing, one of the founders of neurosurgery and a pioneer in operations of the pituitary.
"At the time there were very few surgeons anywhere in the world who specialised in neurosurgery so when he came back he found himself immediately in demand, not only for this operation but for many others."
Following his return from America, Dott found there were no dedicated facilities for neurosurgery or neurorehabilitation and while working at the Royal Edinburgh Hospital for Sick Children he also worked in a private practice as a neurosurgeon.
A nursing home was used to treat his patients in Edinburgh's New Town and Dott along with his team would journey with their instruments by taxi or private car to the facility.
Perhaps it was this period in his career which made him determined to fight for neurology to be better recognised.
In 1938, he saw the first patients enter Scotland's first dedicated neurosurgical ward located within the clock tower of the Royal Infirmary of Edinburgh, now with the title of Associate Neurological Surgeon..
The Department of Surgical Neurology would have a special operating theatre installed with steel lighting and a sound-proof viewing room for students to observe operations, a ward with 20 beds, an ophthalmic room and outpatient facilities.
As WWII arrived, Dott's talents would be utilised at the Brain Injuries Unit at Bangour General Hospital in West Lothian, treating both civilian and service casualties.
He also recognised the importance of psychological assessment and rehabilitation in those with brain injuries and as a result, he would be awarded a C.B.E for his work in 1948.
With around 30 years under his belt as a respected surgeon, Dott was known to be dedicated to his patients, often spotted on the wards every day of the week.
"There are also stories of being authoritarian and 'sharp' with his surgical trainees although generous with his training time," Jon says.
"He seems to have been very detailed and someone who always planned ahead, but also modest."
Jon notes the following quote from Dott's biography With Sharp Compassion as testament to his manner as a doctor.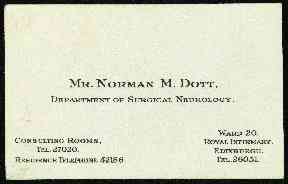 "However lengthy the operating session he never left the hospital without a final visit to the ward to see that the patient was recovering well. His residents and registrars knew that phone calls might come at any time of day or well into the night."
In 1960, Dott's dream of a world-class ward, theatre and rehabilitation facilities would finally come true as the Department of Surgical Neurology at the Western General Hospital opened its doors.
He had a hand in helping to design the facility, including a reflector vaulted roof which avoided shadows falling on both patient and surgeon.
While Professor Dott only spent a brief time at the new facility, retiring in 1963, it remains synonymous with his work and dedication to the speciality for decades.
For Jon, the way Dott cared for his patients was above all his greatest and lasting achievement.
"Clinical excellence in the care of patients with neurological conditions - not just in skill, but in terms of constant hard work.
"There is a sense working in his department of a high watermark which we can still aspire to today.
"Technology may change but the clinical skills of history taking, examination, thoroughness and care remain constant."
Professor Norman Dott died in 1973 and was survived by his wife Peggy and daughter Jean.
As the doors prepare to open on a new neurology facility in Edinburgh's Royal Infirmary, Dott's legacy will remain with the city as it's champion for better services for patients in the city and across Scotland.
NHS at 70
STV News will be celebrating the 70th birthday of the NHS on TV and online throughout the week. We'd love to hear your memories and thank-you message to medics who have looked after you and your family. Share them with us on social media using the hashtag #STVNHS70 or email us your story at stvnews@stv.tv
Download: The STV News app is Scotland's favourite and is available for iPhone from the App store and for Android from Google Play. Download it today and continue to enjoy STV News wherever you are.