Our NHS story: I gave my husband my liver to save his life
Couple get second chance at life thanks to NHS after Scotland's first live donor liver transplant.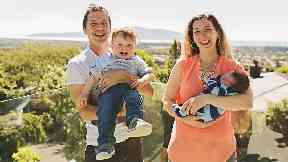 'Why do you have matching scars?' little Arran asks while looking up curiously at his mummy and daddy.
Explaining an abridged story to their eldest son, parents Dan and Jen Foster look at their scars and the second chance at a life together which they have come to symbolise.
Watching their happy boys Arran and Logan grow up has been a pleasure Dan never even dared to imagine after he was told he had less than 12 months to find a new liver over ten years ago.
Dan, from New Zealand, was diagnosed with Primary Sclerosing Cholangitis (PSC) when he was 17 but, other than fatigue, he was able to live a fairly normal life with careful control of his diet.
He first met Jen, from Kilwinning in Ayrshire, in Australia while she was backpacking with a friend and the pair quickly fell for each other while working together in the same hostel.
Dan proposed the following year and they married in their dream sunset beach ceremony in Fiji in 2007, surrounded by 22 of their closest family and friends.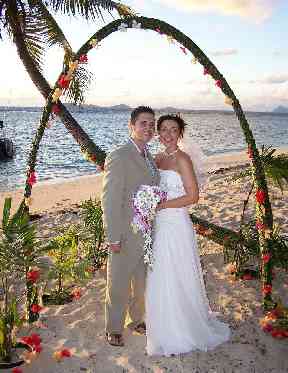 It was the beginning of what they hoped would be an exciting new chapter for them. However, the happy couple didn't realise that Dan would soon be faced with the news that his health was beginning to deteriorate and that he desperately needed a liver transplant.
"When I was first told, I had been in hospital for six days of tests and observation, and it was probably the lowest point of my whole life," Dan, 39, says.
"I had it in my head that this was just a flare up and that they would give me some steroids, or put a stent in my liver to open up the flow, and I'd be sweet in a few weeks.
"So when one of the coordinators said they were having a meeting about me that morning, and that it's probably best if Jen was here when they came to see me, I knew something was up.
"I still remember the doctor telling me straight up 'you have less than 12 months to find a new liver, or you're not going to be here'.
"So it made me realise how serious it was."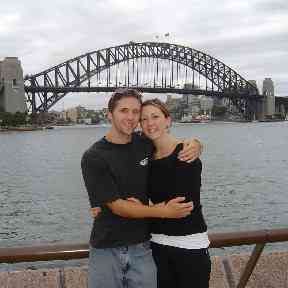 A number of meetings followed with experts at Edinburgh's Royal Infirmary (ERI) and three options were presented to Dan while his wife Jen sat by his side, full of love for the man she had recently wed.
There was not a moment of hesitation when the option of a 'live liver donation' was mentioned, and Jen immediately picked up the leaflets telling Dan on the spot that she was going to do it. She was "more determined at that point than ever" to put herself forward.
The operation was not without its risks for the couple, with a one in 200 chance of death. Undeterred, the couple went through four months of testing. During this time, an added complication arose when it was discovered that Jen was a carrier for a serious liver disease.
"I was luckily only a carrier so I could continue but due to that all my immediate family had to get tested and it diagnosed a disease that my father never knew he had.
"He now has to have regular blood 'drainings' to clean and clear the iron from his blood stream. We would never have known this if I hadn't done these tests."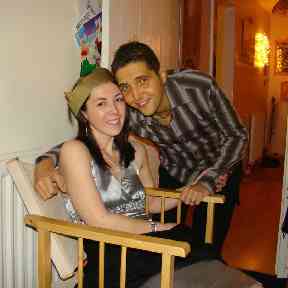 At the beginning of 2008, Jen gave over half of her liver to Dan in a ten-hour operation, which marked the first of its kind in Scotland.
The night before the transplant, the newly married couple cuddled up in one of the hospital beds in the Edinburgh Royal Infirmary and watched some TV together. Dan remembers a sense of calm.
"I think it was just relief that something was getting done and we were going to start moving forward instead of this impending doom hanging around all the time," he says.
"We never said goodbye because we knew it wasn't. I remember counting backwards as the anaesthetic took hold and I think I just asked the nurses to take extra special care of Jen."
The liver is capable of rapid regeneration, making it possible for a team of experts to remove a portion of liver and transplant it.
In the recipient, the liver grows in size quickly and will sustain the individual in good health. Likewise the remnant of liver in the donor undergoes an increase in volume, meaning the person is often able to return to normal life after recovery from the major operation.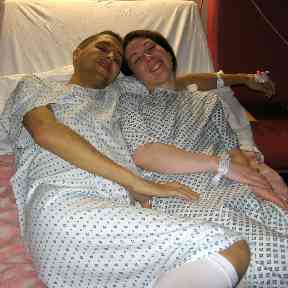 The first thing Dan remembers when coming around was Jen sitting at the end of his bed.
"They were just amazing from start to finish in the entire process," he says, speaking about the staff that performed the transplant and looked after the couple.
"We never felt pressured, they supported us the whole way and they do an unbelievably hard job.
"Everyone was professional, caring and even though I could see how busy and stretched some of the team were, especially the nurses, they always did their best to take the utmost care of me."
Jen adds: "The staff were all fantastic - the surgeons, doctors and the coordinators.
"I remember a few of the surgeons coming by my bedside and giving me an update that the op was successful. I vaguely remember feeling relief and at peace."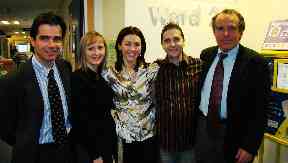 As well as giving Dan a second chance at life, the transplant allowed the couple to start their own family, something they always dreamed of being able to do.
"Jen pulled out an invitation in a scroll for me," Dan says. "I unrolled it and it was an invitation to the birth of our baby with a rough arrival date on it. I think I was pretty speechless at first then we were pretty emotional.
"After everything we had both been through, we were a mix of ecstatic and probably nervous - just hoping it was all going to be OK and also 'oh wow, we're going to be parents'."
After moving to New Zealand, their first son Arran was born in August 2015 and their second son Logan followed in December 2016.
For Dan, watching their sons grow up has been the biggest joy he could have wished for after his life was saved by both the NHS staff in Edinburgh and his wife.
"There are no words that really get across what she means to me, what she's done or how much I love her," he says.
"I'm just so lucky that I get to wake up every day at all, let along next to my other half who is also the reason I'm even here.
"She's amazing, selfless, tough and determined - and the love of my life."
Scotland has the highest proportion of organ donors of any part of the UK, with around 45% of people in Scotland currently signed up to the donation scheme.
Last year, 431 people received an organ through the NHS Organ Donor Register but around 580 people with life-threatening illnesses are currently on the transplant waiting list. For liver transplants, there are consistently 30 to 45 patients in Scotland awaiting transplantation at any given time.
Last month, the Scottish Government pledged to bring forward legislation at Holyrood to introduce plans to create a "soft opt-out" organ donation scheme.
Under the proposals, NHS Scotland will assume all deceased patients consented to donate their organs unless they previously stated otherwise.
Having received the ultimate gift of life,Dan says he will never forget that sinking feeling when he was first told he needed a transplant and that he needed it quickly, or the people he met during his stay in hospital who were also facing a similar fate.
"I'm one of the lucky ones who has had ten years of bonus time, but when I was in Edinburgh I met some terrifyingly sick people, and I don't know if they were so lucky and got an organ in time," he says.
"I can never thank the NHS enough. The surgeons, doctors, nurses, coordinators, the porters that took me around the maze of corridors, all helped to fix me and make me whole again.
"I don't think anyone should take the NHS for granted. It's not until you need it that you realise just how much of an amazing job they do."
WATCH: Kidney donation saves best friend's life
Kaye Nicolson reports on the story of Dionne Kerr whose best friend Claire Knight helped to save her life by donating her kidney.
NHS at 70
STV News is celebrating the 70th birthday of the NHS on TV and online throughout the week. We'd love to hear your memories and thank-you message to medics who have looked after you and your family.
Share them with us on social media using the hashtag #STVNHS70 or email us with your story at stvnews@stv.tv
Download: The STV News app is Scotland's favourite and is available for iPhone from the App store and for Android from Google Play. Download it today and continue to enjoy STV News wherever you are.