Scots say thank you as NHS celebrates 70th birthday
On July 5, 1948, free access to health care was introduced for everyone for first time in Scotland.
With every leaflet that fluttered through the letterbox of homes across Scotland, the country became one step closer to the advent of the NHS.
It's "your health service" it said boldly, and it was going to be free for the first time in Scotland.
On July 5, 1948, the National Health Service was officially launched meaning everyone now had free access to services such as a family doctor, prescription drugs, glasses and dentures.
Of course, the NHS did not simply spring into action from infancy 70 years ago and the formation of the NHS was very much a transition period that built on existing healthcare already in place.
It did not create a single new nurse, doctor or bed. The revolutionary change was to make all services freely available to everyone.
In fact, half of Scotland was already covered by a state-funded health system and the Highlands and Islands Medical Service had been set up 35 years earlier.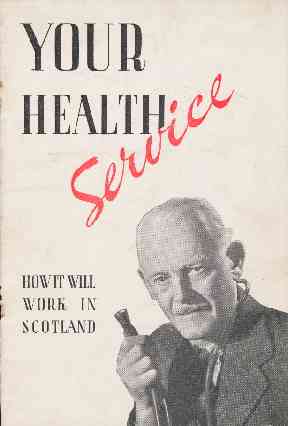 There had also been a hospital building programme during the Second World War on a scale unlike anything else in Europe, and all of these facilities were built into the new NHS.
The real impact was in areas where there had been limited or no public provision like dental surgeries, GP practices and opticians.
For the first time everyone now had access to proper medicine on prescription. Those with rotten teeth were able to see a dentist for the first time, previously deaf people were able to hear with new aids and half a million Scots were able to get free glasses within four months.
The first year of the NHS provided the biggest single improvement in the everyday health and well being of Scots - before or since.
WATCH: History of the NHS
Bernard Ponsonby reports on how the NHS was formed and looks at the medical advancements made during this time.
There have been many advances in medicine and technology over the past 70 years, from the first practical ultrasound scanner being produced in Glasgow in 1958 to the UK's first successful kidney transplant taking place in Edinburgh in 1960.
The innovations continued through each decade, with some of the more notable ones being the world's first clinical service for MRI launched in Aberdeen in 1980 and the first keyhole surgery in the UK taking place in Dundee in 1989.
READ: First nurses of the NHS
Pamela Tulloch speaks to two of Scotland's first NHS nurses as they share their memories of the careers they forged in caring for others.
READ: Memories from the midwives
Laura Piper reports on Scotland's real Call the Midwife staff and that happy moment 'when you hear that baby cry' for the first time.
READ: Pioneering professor delves into the mind
Victoria Pease reports on Professor Norman Dott and the work he did in setting up Edinburgh's neurology department in 1960.
PHOTOS: A life devoted to serving Scotland
Laura Piper delves into the NHS photo archive to we take a look at the staff who helped build it.
WATCH: Cradle to grave
Kelly-Ann Woodland looks at the notion of 'cradle to grave' and how this is tackled within today's system. You can read her personal experience here online.
READ: How far would you go to save the person you love?
Pamela Tulloch speaks to Dan and Jen Foster about taking part in an NHS Scotland first gave them the change to enjoy a future together as a family.
READ: HIV patient thanks 'caring and supportive' NHS staff
Pamela Tulloch speaks to an HIV patient and a Scottish expert in the field to find out how the NHS in Scotland responded to the outbreak of HIV.
WATCH: Caring for those in need today
Sharon Frew speaks to staff currently working on the frontline of care to hear their views.
READ: NHS in numbers
A closer look at how the NHS carries out its mission for patients and other service users across the country.
WATCH: 24 hours in Scotland's hospitals
NHS staff across Scotland share an insight into their working life as the health care service marks its 70th year.
STV News is celebrating the 70th birthday of the NHS on TV and online throughout the week. We'd love to hear your memories and thank-you message to medics who have looked after you and your family.
Share them with us on social media using the hashtag #STVNHS70 or email us with your story at stvnews@stv.tv