NHS 70: Watch incredible moment tiny baby is born in Scotland
To mark the NHS 70th anniversary STV News attended a live birth - but will it be a boy or a girl?
Every day in news is different. You never know what you are going to see and occasionally you are allowed access to events that leave you feeling incredibly privileged.
I had one of those days recently when I was allowed to share one of the most personal and moving experiences in a person's life.
For me, it wasn't an entirely new experience. I've been to this show twice before, but on both those occasions I was a little preoccupied to say the least - but to see it from a completely different angle was quite simply, breathtaking.
I am talking about the birth of a baby. A birth which was filmed for STV News. Despite having given birth to two baby boys myself in the last few years, watching the moment another baby was brought into the world seemed unreal.
Fife couple, Gemma and Stewart Allan, allowed us to be present with them as they welcomed their second baby into the world.
They were booked in for an elective caesarean at Victoria Hospital in Kirkcaldy. Senior charge midwife Liz McMurchie was at my side throughout, talking me through each stage of the caesarean, so I could then relay it to our camera operator Alison.
In this type of busy environment, with a roomful of medics doing a crucial job, it was imperative we didn't get in the way, so knowing where and when we could move around while in theatre was important for all parties.
In truth, I'm a squeamish person. Yet watching the scalpel at work didn't faze me too much. Maybe it's because I knew a baby was on the way.
"Get ready, you're about to see the baby's head!" The words of Liz, as I stood by her side, at the business end of things. I quickly notified Alison and then wow!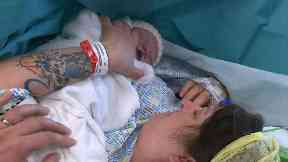 The surgeon slid her hand inside Gemma's tummy, ever so delicately and then after a few wiggles, the baby's head appeared. Alison caught the shot, then we had to very quickly move round to the side for a different angle, as all of a sudden, things started to happen at speed and we had to catch it all on camera.
Usually in news, we try to film things several times for editing purposes and I've had to ask "could you do that one more time?" more times than I can remember, but I thought it best we let it go on this occasion!
I remember when my second baby was born he didn't cry for a little while. That feeling of nervous anticipation was very present for the few seconds we had to wait until - like a bell ringing a new life into the world - we heard that first cry that told us all was okay.
Dad Stewart's face, at first laying eyes on his baby girl - "she's here" - and the beautiful moment mum Gemma had tears in her eyes when baby Connie was wheeled round to her, was amazing.
I've been working in news for too many years to remember and I have been witness to many behind the scenes events, but none compared to the honour of witnessing a new life being brought into the world.
Liz, who has delivered hundreds of babies, told me afterwards my face was a picture; absolutely stunned at what I was watching, but even as she put it, with her years of experience, "THAT was a lovely birth".
NHS 70
STV News is celebrating the 70th birthday of the NHS on TV and online throughout the week. We'd love to hear your memories and thank-you message to medics who have looked after you and your family.
Share them with us on social media using the hashtag #STVNHS70 or email us with your story at stvnews@stv.tv
Download: The STV News app is Scotland's favourite and is available for iPhone from the App store and for Android from Google Play. Download it today and continue to enjoy STV News wherever you are.