Ten cheap and cheerful ways to keep kids happy this summer
From homemade waterslides to strawberry picking, there's plenty to do on a budget.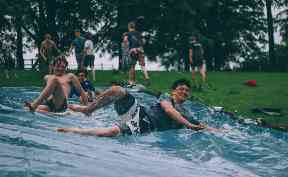 It's official: school is out for summer.
As children across the country prepare to leave behind piles of homework and throw their ties in the back of the wardrobe, they will be looking forward to a fun-filled summer without worrying about school.
Yet with six weeks of holiday time stretching out in front of them, many parents may be asking how on earth they can keep them entertained for the whole summer.
Days out can become an expensive way to keep kids entertained, so for those in need of some cheap and cheerful ideas we've got you covered.
From pizza parties to strawberry picking, here's ten ways to keep kids happy this summer without breaking the bank.
Teddy bears' picnic
Even teddy bears like to enjoy a cup of tea and a cake in the sunshine, but often their portion can go to waste.
With a morning spent making tea cups, cupcakes and scones for cuddly toys to enjoy, you can have a whole summer's worth of picnics with a reusable tea party.
Using a classic salt dough recipe, shape cupcakes and pop into cupcake cases, cut out biscuits and cookies using cutters and mould teacups before baking.
Cool and decorate with poster paints, leave to dry then arrange your picnic on a blanket with all your children's favourite cuddly toys.
Head to a pick your own farm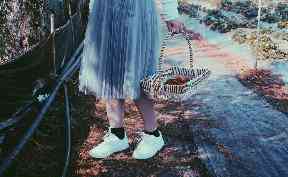 For a two-in-one day out, a wander around a soft fruits farm will not only encourage kids to eat plenty of fruit but also pick enough of a haul to make jam the next day.
Most pick your own farms have play parks and picnic tables, so why not make a day of it especially when the sun is shining.
Scan a recipe before you go so you have an idea of how many berries you will need then get gathering with your little helpers.
Afterwards get weighing packs of sugar, carefully stir the jam, get kids to keep an eye on the thermometer and closely watched, allow them pour their creation into jars adorned with handmade labels.
To spread the joy even more, give a few jars away to family, friends and neighbours.
Make an outdoor den
A bundle of old bed sheets can be transformed into a rather impressive outdoor den which will far surpass any pillow fort built inside this summer.
Utilise a washing line to hang sheets from and create a tent shape for kids to hide under, using pegs to keep things stable.
A picnic blanket will keep things soft to sit on and encourage kids to take books and games to play outside in the shade for a break from technology.
Water park in the back garden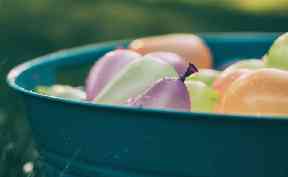 Despite a warm summer being predicted during the holidays, there aren't any thrill seeking water parks to be found in Scotland.
Yet a little imagination, some sheets of plastic and a hose can help you create a large slide in a garden with a bit of a hill.
Arrange a large piece of plastic on a grassy hill, arrange a hose to keep the slide wet and add a little washing up liquid to keep it slippery. Then simply slide down and have plenty of fun.
The addition of water pistols, water balloons and paddling pools will make your homemade water park the envy of the neighbourhood.
Cheap cinema dates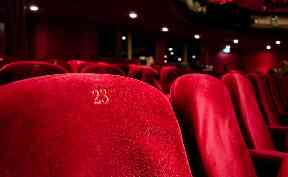 There's no denying that a trip to the cinema can cost an extortionate amount of money, even if you save money by bringing your own snacks and drinks.
If a trip to the movies is still on your children's summer bucket list regardless, then thankfully there are some special deals for kids movies.
Odeon offer early morning screenings at cinemas across the country with tickets as low at £3.25.
Cineworld's movies for juniors programme costs £2.95 per ticket and Vue's mini mornings start from £3.24.
With prices this low, you could afford to pick up some popcorn - but perhaps stay away from the dreaded pick 'n' mix.
Rock painting and hiding
If you do come across a few rainy days during the summer holidays then fear not, you can always settle in for a rock painting party at home.
Joining in with the rock painting and hiding phenomenon, the aim is to find rocks painted by others, hiding them elsewhere and placing your own out into the world to brighten a person's day.
Simply gather a few plain rocks while on a walk then paint with bright colours in any design you fancy.
Give the rocks a varnish then go on a trip to a park, woodland walk or a wander on the beach to hide your treasures.
Pizza party
Ordering pizza can get very expensive quickly if serving a crowd and it's likely many friends will pop round for tea during the summer holidays.
To get your pizza fix on a budget, make a large batch of pizza dough and get the kids involved in the mixing process before their friends arrive.
Then make or buy a tomato sauce, cut up plenty vegetables such as peppers or mushrooms, arrange some meats like pepperoni or ham on a plate and have plenty of mozzarella on hand.
Then divide the prepared dough into pieces and allow each child to shape their own pizza, dollop on some sauce and top to their heart's content before baking in the oven.
Just watch out for any overzealous pizza dough throwing by budding chefs.
Go swimming outdoors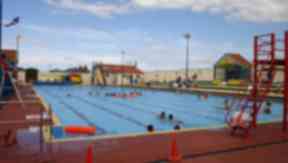 When the weather is forecast to be bright and beautiful, take advantage of some of Scotland's most beautiful beaches and lidos for some fun outside.
Stonehaven's Olympic-sized open air pool is heated to ensure you stay warm even if the temperature dips and boasts inflatable sessions and a slide.
In Gourock, diving boards will keep kids entertained and starlight swims allow the whole family to enjoy a few lengths under a blanket of stars.
Of course, you could also pack up and head for the beach this summer - popular family beaches include Balmedie in Aberdeenshire, Troon in Ayrshire and West Sands in St Andrews.
Camping in the garden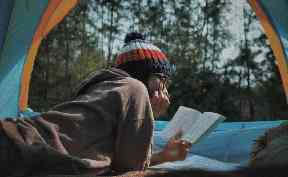 You don't need to pack everything and the kitchen sink into the car and drive to a campsite in the middle of nowhere if you have a secure back garden with a big enough patch of grass to pitch a tent.
Borrow one from a friend to keep costs down then spend the afternoon teaching kids how to put it up safety. Pack it with pillows, sleeping mats and duvets and cosy down to watch a film on a laptop.
Of course, you could always forgo technology and learn how to do shadow puppets with a torch, tell ghost stories and enjoy a midnight feast.
If anyone needs the toilet they can simply pop back into the house rather than brave public loos.
Make barbeque desserts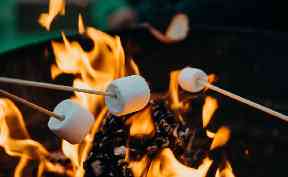 There's a high chance there will be plenty of barbeques taking place this summer, but it isn't all about burgers and bangers.
The hot coals can make for the perfect environment for some sweet treats once the main food has been cooked.
Try making baked bananas by slicing through the fruit lengthways and stuffing with a couple of squares of chocolate.
Wrap in tinfoil and nestle among the ashes to cook away for a delicious melty treat.
Marshmallows are far superior toasted on the barbeque but why not sandwich some between chocolate digestive biscuits for a real sweet treat similar to an American s'more.
Download: The STV News app is Scotland's favourite and is available for iPhone from the App store and for Android from Google Play. Download it today and continue to enjoy STV News wherever you are.