Obstacle warriors: Adventure races to sign up for in Scotland
From foam filled tunnels to thick muddy swamps here are some of the country's toughest races.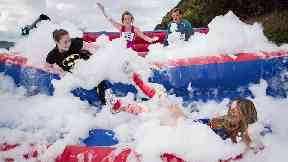 There's running and then there's 'battling through a swamp and scrambling through a tunnel of foam' running.
In recent years the trend of adventure racing has seen an incredible rise, with events across the country specially tailored for thrill seekers looking for more than just a city run.
In a country as wild and beautiful as Scotland, that can make for an extra incredible experience.
From lugging barrels down a beach off the east coast to plunging into the clear glass waters of Loch Ness, there are many spectacular locations to win over wild hearts.
And if you get to be drenched in mud, colour bombed or lit up in glow sticks while you're there, then all the better.
Take a look at some of the events you can sign up for.
Beach Ballistic
August 4, 5 2018 Aberdeenshire
Beach ballistic is set in the vast grounds of Balmedie Country Park in Aberdeenshire and is Scotland's only beach based obstacle course. The stunning beach, and unique dune system, is the location for a gruelling 16K or 6K route - but if those distances don't phase you then there's always the extreme 32k monster that is the Ultra Beach.
From lugging barrels to bounding over tyre mounds in the North Sea waves, this is truly a coastal test of strength, stamina and mental toughness.
Beach Ballistic is also one of only two world and European championship qualification obstacle courses in Scotland - competitors from both the 32 and 16K races will have the opportunity to qualify for the OCR World and European Championships.
Rough Runner
August 18, 19 2018 Penicuik
Remember those old TV game shows where you watched contestants dressed in sparkly Lycra take on impossible challenges which you were pretty sure you could do?
Like the Travelator...
Well now's your chance to get off the couch and prove yourself!
Rough Runner is an obstacle course challenge, combining distance running with a variety of obstacles along the way, each inspired by game shows such as Total Wipeout, Takeshi's Castle, Gladiators, and Fun House.
As the organisers say, expect sweeper arms, giant pigeon battles, big balls and yes, The Travelator!
Rough Runner's first Scottish event took place in 2016, and in August 2017 they had over the twice the turnout.
This year they're up in the hills of the Penicuik Estate with absolutely stunning scenery and a mix of terrain throughout.
So Gladiators, are you ready?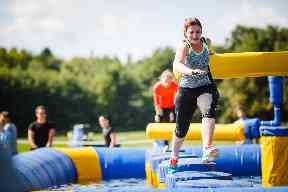 Rainbow Assault
August 18 2018 Perth
This Rainbow Assault challenge is in support of children and young people with cancer, and their families so is a fantastic cause to get covered in bright colours for.
Test your strength and endurance through a 5K muddy assault course while being under the attack of rainbow colour bombs and water pistols.
Described as a mix between Tough Mudder and the Holi Festival of Colour events, be prepared to get well and truly messy.
Please note that children 12 and under must be accompanied by an adult.
In addition to this there is a 1k kids course suitable for children aged three to eight years which still has lots of mud and colour.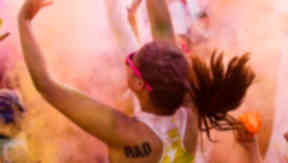 Tough Mudder in the city
August 25 2018 Edinburgh
Described as Tough Mudder's Cousin In the City, this obstacle course is set amid the beautiful surroundings of Holyrood Park and packed with 5K of awesome obstacles.
A sort of taster for the big Tough Mudder than has grown tremendously popular, this smaller version also contains a Mudder Village of music, street food and craft beer.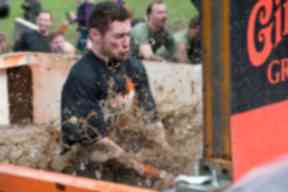 Beast Race
September 1 2018 Loch Ness
This epic 10k obstacle course race covers some wonderfully tough Scottish terrain.
That means 30 mega obstacles of giant water slides, icy loch water, plus thick mud and swamps so by the end of it if you're not a mud monster you probably took a wrong turn somewhere.
Good luck!
Roadblock Run
September 9 2018 Edinburgh
The RoadBlock Run is a charity fun run with extra foam and adult friendly bouncy castles.
So far the run and its predecessor Urbanathlon Scotland have raised over £300,000 for Chest Heart & Stroke Scotland.
The emphasis is very much on fun rather than the 'run' - so you can happily walk the route around Arthur's Seat.
It's only 7k but with plenty of obstacles to distract you, you'll hardly feel even that distance.
They have lorries backed with boxes, cargo nets and foam tunnels and fancy dress is extremely encouraged.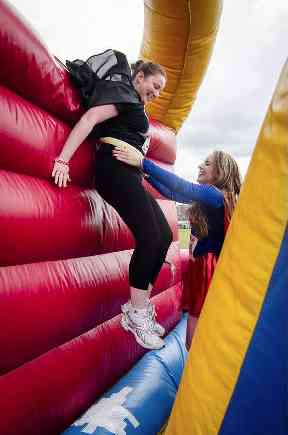 Pretty Muddy
September 9, 2018 Glasgow and September 22, 2018 Edinburgh
Pretty Muddy Kids and Pretty Muddy 5K and 10K.
Race for Life Pretty Muddy is a brilliant 5k muddy obstacle course raising funds to beat cancer.
It also features a healthy amount of mud and gorgeous routes in both Glasgow and Edinburgh.
Due to the nature of the main events, you must be 13 or over to take part, but kids have their own version they can take part in too.
The picturesque Pollok Country Park will host the Glasgow Pretty Muddy for the first time in 2018, bringing a new route to the city. The course will weave in and around the forests and grounds surrounding the stunning Pollok House; a Georgian, 18th Century stately home.
All of the Pretty Muddy Kids events are approximately 5km. At the majority of venues, there will be a shortcut available at approximately 2km or 3km, which will lead back to the finish line BUT all children get to take part in the muddy slide at the end.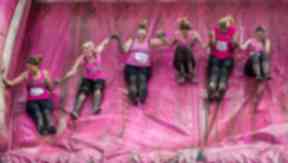 Breca Loch Gu Loch Swimrun
September 29, 2018 Loch Ness
The obstacles in this race are purely the ones that nature herself throws at you.
This is particularly beautiful route through an incredible landscape, with tough terrain, deep lochs, island hopping and rugged trails.
You have to swim through five Lochs (two for the sprint) - Lochs Ness, Duntelchaig, Ceo Glais, Mhor and Tarff.
They're deep, cold, and legend has it, one is inhabited by a particular monster!
As Ben de Rivaz, Breca swimrun founder says: "Swimrun is all about teammates working together to complete a unique endurance challenge in spectacular surroundings, giving them the opportunity to connect with nature in a truly immersive way.
"Breca Loch Gu Loch is a beautiful race in an incredible landscape, offering tough terrain, deep lochs, island hopping and rugged trails."
The runs take in old trails, forest trails and rough trails with breathtaking scenery.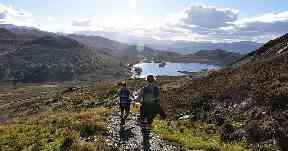 Illuminator Night Trail Race
October 27, 2018 Glen Tanar
This night race is pretty incredible - a wild through-the-night, tough as boots half marathon.
Run or walk 15 dark miles over rugged hill trails with just the glow of your head torch to lead the way.
It's a fantastic way to see the natural beauty of Glen Tanar's ancient pine forest lit up in an almost ethereal way.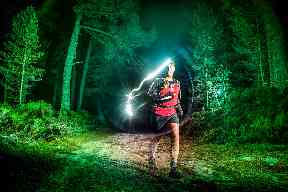 Supernova Kelpies Run
November 9, 10, 11 2018 Falkirk
This fantastic 5K route is a great opportunity to explore the home of Scotland's own two water spirits.
The Kelpies are wonderfully lit up as runners take on a glowing light journey around them.
Fluorescent clothes and anything that lights up that you can wear is encouraged.
Goodie bags with head torches will be provided.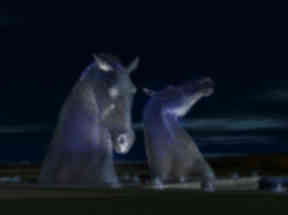 The Mighty Deerstalker
March 16, 2019 Innerleithen
Described as the UK's biggest night race, Mighty Deerstalker will take you through rivers, forests and over a mountain or two in the pitch dark of a chilly March night.
You can try half or all of it, but either way you'll be invited to the infamous Mighty Beerstalker Party at the end.
Party access is included with every race entry and you can roll out of the bar straight into an amazing camp-site under the stars.
Get a free pint and a bacon roll the morning after the night before when you buy a camping ticket.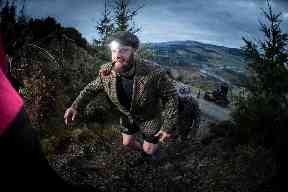 The Great Glencoe Challenge
July 6, 2019 Glencoe
So, 26.2 miles over 500ft of ascent in 12 hours? You've got this!
A Trekathon is a bit like a marathon except you add a mountain.
You'll want to train for this one, but it's well worth it as you get to explore one of the most dramatic, scenic locations in Scotland.
From the heart of Glencoe, the route takes you over the infamous "Devils Staircase" on the West Highland Way to finish 26.2 miles later at the foot of Ben Nevis.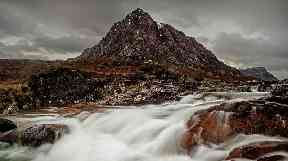 Download: The STV News app is Scotland's favourite and is available for iPhone from the App store and for Android from Google Play. Download it today and continue to enjoy STV News wherever you are.