Family heartbreak as victims of asbestos exposure remembered
Willie Vidler, 76, died shortly before the birth of his first great-grandchild.
When Willie Vidler was diagnosed with mesothelioma, he was determined to fight long enough to meet his first great-grandchild.
Tragically, it was a moment Willie and his family were denied as he died just four months later from the cancer, which mainly affects the lining of the lungs and is usually linked to asbestos exposure.
As the family gathered at a memorial service for loved ones affected by conditions like mesothelioma, the newest member of the family, baby Imogen, was cuddled tightly as they laid flowers in a peaceful garden in Glasgow, a space which has come to be a source of comfort to many.
Now in its sixth year, the memorial was hosted by Clydeside Action on Asbestos (CAA). Each year, the charity says more and more families attend.
It is now campaigning to urge the Scottish Government to do more to ensure toxic asbestos fibres are stripped from all older public buildings.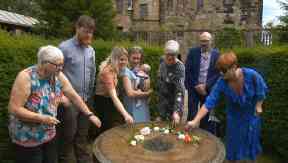 After the funeral of 76-year-old Willie, more than 20 family members and friends took part in a number of races for the Edinburgh Marathon Festival in his memory, raising over £6000 for CAA. Now, they want to continue their support by helping to raise awareness by sharing Willie's story.
"He had a bit of a cough for a couple of weeks that wasn't going away so he went to his doctor and then before we knew it, everything happened pretty quickly," Ken Dick, Willie's son-in-law, says.
"Most of the family had never heard of mesothelioma.
"Although the hospital was amazing, it did seem to take, to me, an awful long time before we got a diagnosis, there just didn't seem to be the specialists there."
Anne Vidler was married to Willie for 55 years and the couple had five children together. She says it was a massive shock when they learned of his diagnosis last year.
"We are a big family and everyone is devastated," Anne says. "He worked at the construction of the Cockenzie Power Station.
"He said it was like a snowfall, the asbestos falling around him and loads of other workers obviously."
The use of asbestos was banned in the UK in 1999. CAA campaigners say an increasing number of people are being diagnosed with asbestos-related conditions which they claim are associated with working in older buildings.
Last year, the charity handled 750 new enquiries, with Phyllis Craig saying their numbers are up by 50 already this year, a situation she says is "very sad."
"We need to eradicate asbestos from schools and buildings in order that we don't see this in 30 years time," the senior welfare rights officer at CAA says.
"Yes, they are doing all they can and yes, it is minimal risk but that is unacceptable. Minimal risk is not good enough.
"We say there should be no risk."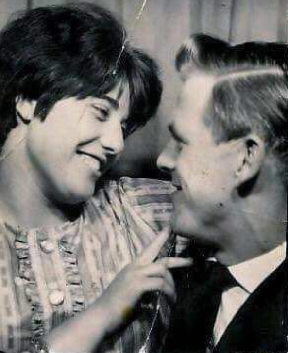 In the last ten years, the Scottish Government says there has been a reduction of almost two thirds in the proportion of pupils who have been educated in "poor" or "bad" condition in schools.
The handling of asbestos within school buildings is an issue the government says they take very seriously, with a spokesperson adding that they expect local authorities to strictly follow Health and Safety Executive recommendations.
For Willie's family, the memory of the man who was affectionately called the BFG by his grandchildren is what spurs them to continue raising awareness.
"I had the pleasure of speaking to Willie a few weeks after his diagnosis and knew that he was expecting his first great grandchild," Ken says.
"What he wanted was to see his first great grandchild and unfortunately that never happened.
"There's absolutely no doubt that if it hadn't been for asbestos, he would have met his first great grandchild.
He adds: "We are not going to let it go until there's a proper campaign out there to get something done about asbestos.
"It just seems like something that Willie would have wanted us to do."
Download: The STV News app is Scotland's favourite and is available for iPhone from the App store and for Android from Google Play. Download it today and continue to enjoy STV News wherever you are.