Pass it on: A mum's mission to re-use unwanted school uniforms
Izzie Eriksen says it can be quite overwhelming for families faced with school uniform costs.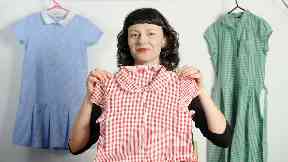 Watching your child stand tall in their first school uniform is a special moment many parents treasure.
This was no exception for Izzie Eriksen who remembers the day well as she watched her daughter prepare for her new adventure.
It also marked another important milestone for the mother-of-two as it was the very moment which inspired her to set up a social enterprise and promote the re-use and recycling of school uniforms.
Launching Apparel Xchange earlier this year, Izzie and a small group of volunteers have been collecting second-hand primary and secondary school uniforms in Glasgow that are no longer needed and hosting a number of pop-up shops to sell them at low cost.
It is hoped the project will ease the financial burden on families preparing for the start of a new school year, and do so in a way which is kinder to the environment.
More than that, she is driven by the idea of showing the next generation the impact of clothing waste on the environment and the benefits of opting for second-hand.
"When you have to go and buy school uniform, you realise it can be quite expensive, or that they grow quite fast," Izzie says. "Children are expensive.
"The fact that there are lots of people who can't always afford school uniform - that is a big motivator in providing things at low cost. But I'm also really driven by more the sustainability of it.
"You can't really walk into a charity shop and buy uniform," she adds.
"What you need is a second-hand specialist in uniform where you know you can go and buy pretty much everything that you need."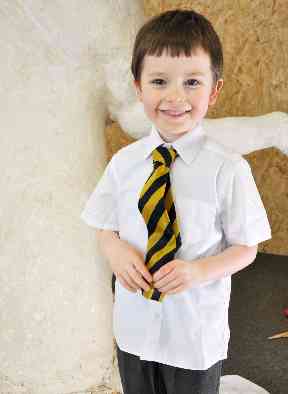 An estimated £140m worth of used clothing goes to landfill in the UK every year according to a WRAP report.
Inspired to help reduce this idea, Izzie tested the project in her daughter's school initially and was delighted at the encouraging response she received from both the parents and their children.
This spurred her to launch the social enterprise in March of this year and try to make it a concept which could work across all schools in Glasgow.
"It was about overcoming perceptions of second-hand," she says. "There's nothing wrong with something that's pre-worn. The quality is still there.
"Young people are the future so I thought about how to equip them with the ability to make sound consumer choices and the most sensible thing seemed to be to engage with schools and use them as a way in, and say why it is really important to make sure we don't throw away old or unwanted uniforms."
Already seeing changes, Izzie says they have diverted over 2100 garments from landfill by working with schools to collect unwanted school uniforms.
This is the equivalent to saving enough energy to make 113,208 cups of tea, taking three cars off the road in the UK for a year or saving four return flights from Edinburgh to New York.
She hopes that by seeing the impact their choice to re-use clothes is having will spur on parents and their children to continue this ethos.
"Parents generally feel good if they can pass things on because they know they can be used elsewhere, especially if they haven't been worn that much," Izzie says.
"It is a great way of helping others by doing that."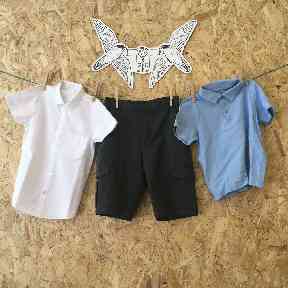 In May, the Scottish Government announced that the school clothing grant will have a minimum level of £100 in all local authorities and it is expected that around 120,000 families would benefit from this.
Praising this initiative, Izzie says that there are still many families who fall out of the criteria for the grant who could benefit from second-hand options.
After running a number of pop-up shops within schools, the volunteers have now confirmed pop-up events at Shawlands Arcade in July and August where they will be selling all uniform items for £2.50 as well as spreading awareness about the social enterprise.
"I do think young people are really aware of the impact of anything we consume on the planet, like the impact of plastics in the sea," Izzie says.
"This is about really understanding that what you wear has a similar impact.
"The kids understand it more and more and it feels good to have an impact on young people - my own children and also wider.
She adds: "I would be really keen in the future to have every young person in every school in Glasgow and in Scotland to understand the impact of textiles and how they can be reduced."
The first pop-up shop takes place in Shawlands Arcade on July 27, July 28, August 3 and August 4, between 12pm and 5pm weekdays and 10am to 1pm at the weekend.
Download: The STV News app is Scotland's favourite and is available for iPhone from the App store and for Android from Google Play. Download it today and continue to enjoy STV News wherever you are.