Meet the therapet dogs bringing joy to hospice patients
An Edinburgh hospice said the impact therapets have on improving patient mood is 'phenomenal'.
Bounding towards the front door with their tails wagging in excitement, Maddie and Morgan's presence bring smiles to all who set eyes on them.
They stop in delight when approached for a pet and lap up the attention as they willingly cuddle in.
It's a sight which makes volunteers Ruth Davis and Jennifer Somerville proud having watched the Cocker Spaniels embrace their role of 'therapet' with abundant energy.
For the past 18 months, twins Ruth and Jennifer have been bringing Maddie and Morgan to St Columba's Hospice every fortnight to interact with the patients, staff and visitors.
The playful dogs, also twins, have been accredited by Canine Concern Scotland Trust (CCST) and are now a proud part of the 600-strong volunteer base at the Edinburgh hospice which provides specialist palliative and end of life care to people with terminal illnesses and their families across Edinburgh and the Lothians.
Having been around dogs all of his life, in-patient Ian Gordon was delighted when the four-legged friends entered his room while his family were visiting.
"It brightens you up a bit and it takes away what you are feeling within yourself," Ian says while petting Maddie and Morgan. "It's very therapeutic."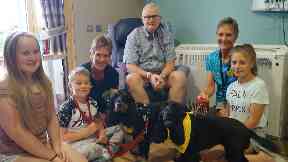 As Maddie and Morgan continue to enjoy the cuddles, the conversation naturally drifts to Ian's own dog Patch, who has been with the family since he was a pup.
"They are man's best friend," he says, speaking about his love of dogs.
"It's the tail wagging and just jumping on you and wanting petted. It certainly lifts you, I just think it's fantastic."
The St Columba's Hospice therapet service first started in 2015 with a small group of dogs and a cat called George.
At the moment, the hospice welcomes therapets to visit in-patients and those using the day therapy services around three times a week but this is something they would be more than happy to increase to seven days having watched the effect their presence has on everyone at the hospice.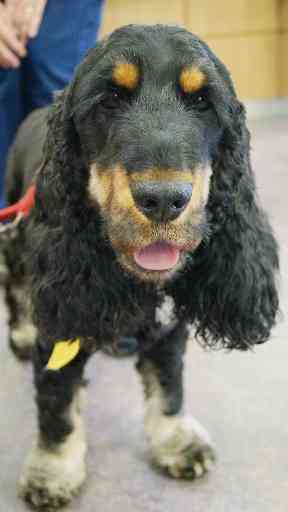 "It would be fantastic to have furry friends in every day of the week," Richard Mackay from St Columba's Hospice says.
"It is such a simple thing, the idea of a dog coming in, but the impact is phenomenal and we really value all the time and effort that these volunteers put in with their dogs.
"I have seen patients that have been really withdrawn and low in mood and when they see that dog coming in, it lifts the mood and they immediately start talking and feeling better at engaging with what's going on.
"That is really positive and I think that no amount of medicine could do that - really powerful what a dog can do."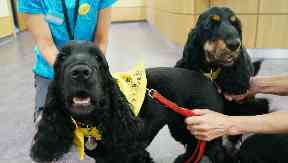 Ruth and Jennifer decided they wanted to give their time to a volunteer project at a hospice after losing their mother to cancer.
Both of Ruth's dogs were over a year old, a criteria for the therapets, and they were both successfully assessed by charity CCST to make sure they were fit, healthy and under their owners control.
CCST works with volunteers to help initiate partnerships that enable therapet visits to places like nurseries, schools, care homes, hospitals, hospices and prisons.
The charity's work also covers the popular Paws Against Stress events which take place at universities and colleges to help relieve stress during exam time.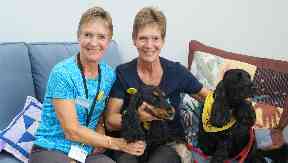 "It is amazing, it is joy, pure joy," Ruth says, explaining the reaction people have when they see Maddie and Morgan in the hospice.
"We are nothing to do with illness or their treatment or anything so the patients love the dogs, the families love to see them and the amazing staff who work in here, and Maddie and Morgan love all the stroking, petting and the compliments.
"These two sense that people are ill, they put a paw on a arm or a leg, it is amazing.
"They are a great diversion for everybody," Jennifer adds.
"The patients talk about the dogs they have had over the years.
"It takes them totally away from their treatment and it is fresh faces and something else to talk about."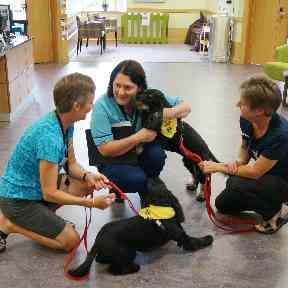 Therapets can be any type of breed or cross breed of dogs or cat with CCST also hoping to attract more potential volunteers as they celebrate their 30th anniversary this year.
Both Ruth and Jennifer say they have been moved by the people they have met during their volunteering and say it has been an absolute pleasure to see the difference their devoted dogs make to everyone they meet during their visits, not just for the patients but also the staff and visitors too.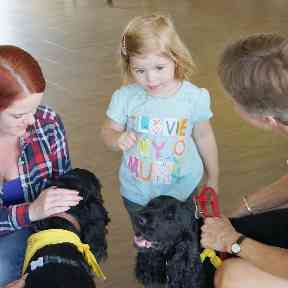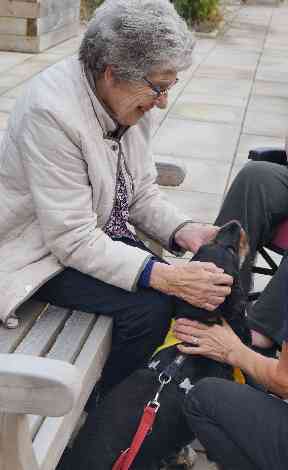 "It is great to be a part of it, a privilege," Ruth says.
"Often, we just can't get in the door - somebody stops us whether it is a member of staff or visitor or somebody in a wheelchair going outside for fresh air. So you just stop and chat before we even get to the desk.
"A couple of people we have met, it just stops you short, particularly patients who have got young children.
"It is really hard. We just know we are making a difference so it is really worth doing."
For more information, visit the CCST and the St Columba's Hospice therapet websites.
Download: The STV News app is Scotland's favourite and is available for iPhone from the App store and for Android from Google Play. Download it today and continue to enjoy STV News wherever you are.