The Rock sends personal message to Scots amputee charity
Dwayne Johnson said the Glasgow-based charity, Finding Your Feet, was an 'inspiration'.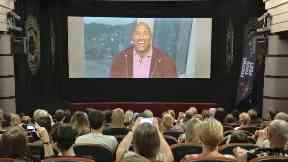 Dwayne Johnson has surprised a Scots amputee charity with a personal video message of support.
When Kerr Ferguson from charity Finding Your Feet saw the actor, also known as The Rock, was starring in a new movie as an amputee, he got in touch with Universal Pictures.
He told them how inspiring it was that someone so famous in Hollywood is playing an amputee, and asked for a free, private screening to surprise charity members.
After agreeing, a private screening of Skyscraper was arranged for charity members at the Glasgow Film Theatre.
The 140 attendees - made up of amputees and their friends and families - thought they were seeing a generic introduction by Dwayne, until he said the name of their charity.
When Dwayne had heard of the event and the cause, he recorded the video and added it in as a surprise.
"At first they thought it was generic, but when he said 'Finding Your Feet' it was just amazing, everyone was in disbelief.
"If this message from Dwayne means that even a few more amputees get in touch asking for help then it's fantastic."
In the message, Dwayne said: "Hey guys, surprise! Very happy to be here to introduce our film Skyscraper.
"Thank you to Finding Your Feet organisation for hosting tonight - you guys are doing great work for amputees and their families.
"We appreciate all that you do - thank you for being an inspiration."
Paul Johnson, a 25-year-old double amputee who is supported by the charity, said he was "so impressed" by the whole thing.
"It just took us aback completely," he said. "Seeing The Rock as an amputee is just awesome for us.
"The video is being shared loads - there are already a lot more people liking our page and getting in touch."
Dwayne is not the first celebrity to endorse the Glasgow-based charity, and they already have a "wall of celebrity hands" in their office that has grown throughout the years.
It has hand prints from the likes of Andy Murray, Gerard Butler, Nicola Sturgeon and Mel Gibson.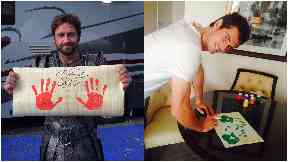 But for quadruple amputee and founder of the charity, Corinne Hutton, Dwayne's message means so much more.
"We organised the screening of Skyscraper because we believe Dwayne Johnson portraying an amputee action hero will inspire countless people with limb loss and fill them with confidence," she said.
"It was a hugely fun film. Universal Pictures were fantastic with their help with the private screening, and the personal message from Dwayne Johnson was just incredible.
"To have a message from such a big star and such a great person is massive for the charity.
"We hope it encourages amputees to get in touch and see what we can do for them.
"Limb loss isn't the end - it's a new chapter and we want to show that to as many people as possible."
Download: The STV News app is Scotland's favourite and is available for iPhone from the App store and for Android from Google Play. Download it today and continue to enjoy STV News wherever you are.