Student's magical picture book inspired by Glasgow park
The Star in the Forest by Helen Kellock was inspired by Pollok Park in Glasgow.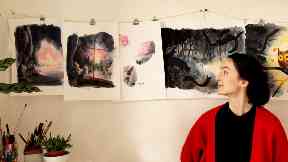 As two little girls wander through a forest, their torch the only light among the gloomy trees, they go in search of a fallen star.
The whimsical scene, crafted from paints, pastels and pencil may be straight out of a children's book, but the forest's inspiration lies in one of Glasgow's well known landmarks.
"I actually live just outside Pollok Park," explains illustrator and author Helen Kellock.
"It started one night when I couldn't sleep and I was looking out at the park here, which feels like a forest.
"I started to think about these two little girls out there at night.
"That's where it originated from, a scribble in my sketchbook at 3am."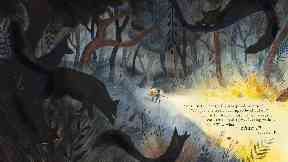 The 31-year-old from Glasgow has just completed her masters at Glasgow School of Art, using the time during her studies to create the magical world for her characters Pip and Maisie in The Star in the Forest.
The story sees the two sisters go in search of a fallen star in a forest, making their way through the trees in the night with only their torches to guide their way.
As they journey deeper and deeper, the story explores each sister's different personalities and addresses their fears with what lurks just out of sight.
"I've heard that the illustrations have been described as quite magical, the colour palette is quite dark but there's a strong use of contrasting light there so it has a strong atmosphere to them," Helen explains.
Having originally studied fine art at the famous art school, Helen began exploring English literature at Glasgow University after taking an evening course in writing fiction for children.
"I had wanted to do my own children's picture books, I had been working on that periodically in the few years before and I really wanted to really focus and dig into develop my own visual language and really develop a couple of stories I had already had in my head," Helen explains.
"It was mostly for the time and the space for it just to really focus."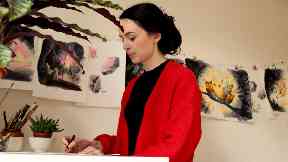 Helen's ideas for stories meant she wanted to take ownership in how they were presented, creating her own visual language to tell a tale rather than illustrating work by other writers.
"I'm such a nerd, I have so many children's picture books. I have no children but i have a huge collection of picture books in my house.
Her love of children's picture books has driven her to create this magical world based on her hometown, winning the Batsford Prize for Children's Illustration and being highly commended for the Macmillan Book Prize in the process.
Her hand-drawn illustrations will go on display at Glasgow School of Art's graduate degree show, which has been moved to a different venue following the devastating fire at the school which took place earlier this year.
Helen says that it was a difficult time for her and her classmates, but she adds she has been proud how they have worked to produce work in time for the degree show.
"It was quite a challenging term with the fire for us so everyone had to work really hard over the last six weeks to try and gather things together and I think everyone's done a fantastic job.
"I feel like considering the time constraints and difficulties we've had, I'm really proud of the work I've put together and I feel that both projects are quite different and i'm pleased about that."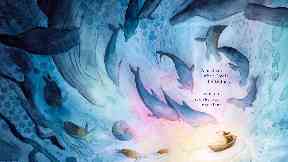 As Helen looks forward to The Star in the Forest being published in autumn next year, she has already finished her second children's book Out to Sea.
"It's looking at grief using the metaphor of the ocean to look at this girl's journey through her own personal grief and seeing the sea as a metaphor for her own journey," she says.
Also inspired by Scotland, Helen went to coastal towns to research ideas for her next set of illustrations.
"I went up to Oban, Fraserburgh, Portpatrick and did a lot of research by the beach which I really enjoyed, taking wee boat trips and taking photos and started gathering drawings while I was on location."
Download: The STV News app is Scotland's favourite and is available for iPhone from the App store and for Android from Google Play. Download it today and continue to enjoy STV News wherever you are.