Student racially abused football player on Twitter after New Year party
Mark Chalmers abused Inverness Caledonian Thistle player Gregory Tade on Twitter.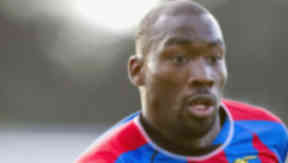 A student racially abused Inverness Caledonian Thistle player Gregory Tade on social media site Twitter after drinking ten cans of beer at a New Year's party.
Mark Chalmers, 16, who studies sport and fitness at college, told the striker he was "black and s**** at football" and should "give up life".
Dunfermline Sheriff Court heard on Friday the French forward received the message on the social networking site after wishing football fans a Happy New Year.
The 25-year-old intended to let it lie despite being shocked by the message, but police were contacted by a number of football fans and Scottish FA chief executive Stewart Regan who warned Chalmers on Twitter "police will find you".
Suzannah Hutchison, prosecuting, said: "He [Mr Tade] was shocked by the message and considered it to be racially aggravated. A number of his followers sent him messages saying he should contact police."
Chalmers then tweeted Tade saying: "Sorry for what I called you earlier. I won't be the first or last but still it was shocking and again, I'm sorry." Tade replied: "Whatever mate. It's easy to say stuff like that and apologise for it later. I hope you've learnt a lesson."
Miss Hutchison said the case was then reported to Northern Constabulary by a "number of members of the Twitter site". Tade was contacted and admitted he would like to make a complaint. The depute fiscal added: "He [Chalmers] told police he had been at a party and had ten cans of beer. He said he was very drunk when he left the message. He said he was physically sick the next morning when he realised what he'd done. He added that he had had over 200 angry responses on Twitter and appreciates the anger he caused."
Chalmers, of Leighton St, High Vallyfield, Dunfermline, pled guilty to sending a racially abusive message to Mr Tade on January 1.
Alistair MacLeod, defending the teenager, said: "He is not a regular drinker and believes he wouldn't have behaved this way if he hadn't been drinking. Mr Tade is a former Raith Rovers player, and my client had been discussing the rivalry between Raith and Dunfermline with a friend on Twittter, when prompted him to make the comment to the player.
"It was Mr Tade's intention to let it lie after receiving the apology, but my client accepts his behaviour is in no way acceptable, and is extremely ashamed by what he's done."
Sheriff Fiona Tait order Chalmers to carry out 100 hours of unpaid work. She said: "Despite what you may say, this had nothing to do with football. This was a racial remark, which the court takes a very serious view of."