Fears planned turbines could pose problems for golden eagle population
The RSPB is concerned plans for 30 turbines on Lewis could have a 'devastating impact' on local birds of prey.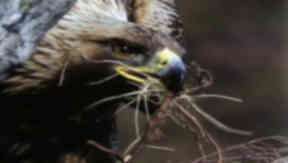 There are fears that plans for 30 turbines on Lewis could have a "devastating impact" on the population of golden eagles.
Uisenis Power owned by Nicholas Oppenheim wants to build a £180m energy scheme of 30 turbines next to the 39 machines due to be built on his private Eishken estate.
The RSPB says the South lochs area of Lewis supports one of the highest densities of golden eagles in the world and is increasingly important for white tailed eagles.
They fear the latest plans could have a devastating impact, citing experiences in Norway where they claim there have been many collisions of eagles with turbines.
The charity said around a dozen pairs of breeding golden eagles are currently in the area.
A spokesman for the charity said: "The survey work is to map eagle usage of the area and plot that on map and that is by far the most densely populated area by eagles that we have ever seen on any planning application in the UK and it has been described as spaghetti junction for golden eagles."
Mr Oppenheim says the local community will greatly benefit from the wind farm, in an area affected by depopulation and unemployment.
Mr Oppenheim has lodged the first stage of a planning application to extend the wind farm and Western Isles Council said it would consider the application on its merit.
Construction will begin on the original thirty nine turbine scheme next year.