Phone lines reconnected after attempted cable theft left thousands cut off
BT said it faced a major engineering challenge to restore service from the fibre-optic cable in Loch Carron.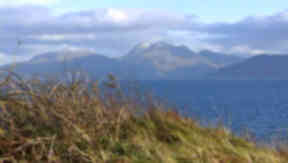 Telephone lines have been reconnected to hundreds of homes cut off after a subsea cable was damaged by thieves trying to steal it.
BT said it faced a major engineering challenge to restore service from the fibre-optic cable in Loch Carron. The thieves apparently believed it was copper.
Around 2100 customers across nine communities in Skye, Lochalsh and the Western Isles lost their telephone, 999 and broadband services.
Connections were restored to eight of the areas on Thursday night, but 344 people still had no service at 11am on Friday. Engineers had to wait until low tide at 2pm before they started work on connecting a new section.
It took around six-and-a-half hours to complete the work, BT said. Robert Morrison, senior operations manager in the Highlands and Islands, added: "Our engineers had to battle against time and tide but they worked their socks off to restore service to 7000 internet and telephone customers across the north-west Highlands and Islands.
"I really can't praise their efforts highly enough as the sea was virtually lapping at their feet when they finished connecting the links in the loch. I'd also like to thank the local coastguard for providing us with safety support."
Northern Constabulary says it has increased patrols in the area and set up 999 response points where members of the public can speak to a police officer.
The nine areas first disrupted were Ardvasar, Balallan, Duntulm, Glendale, Glenshiel, Killilan, Scalpay, Skeabost and Uig. The damaged cable crosses Loch Carron between the villages of Lochcarron and Strathcarron.
Metal theft is estimated to cost the UK economy as much as £770m a year. Earlier this week Justice Secretary Kenny MacAskill announced that hundreds of scrap dealers would have to be licensed in a crackdown on the problem. He joined forces with the Association of Chief Police Officers in Scotland and British Transport Police to launch the Cut Out Metal Theft initiative.
Superintendent John McDonald of Northern Constabulary said earlier: "We are treating the loss of phone services as a major incident and are working closely with our multi-agency partners to effectively deal with the incident as quickly as possible.
"Highland Council and Western Isles Council have both put in place resources to provide additional contact through their mobile patrol work forces.
"Police are currently investigating the circumstances surrounding the theft/damage of cable in the Stromeferry/Lochcarron area. Officers are working with BT to establish the extent of the impact in these communities and the cost of the damage."