Is this the picture that proves the Loch Ness monster really exists?
A man who has spent 26 years looking for Nessie claims to have captured the definitive image.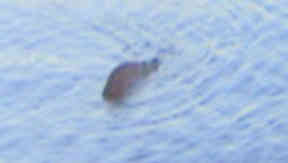 A seasoned Nessie hunter claims to have taken a picture that proves conclusively that the monster exists.
George Edwards, who has spent 26 years on the trail of the elusive beast, took a shot of a large round hump breaching the surface of Loch Ness from the deck of his boat.
He claims he had just seconds to capture the distant shape before it slipped back beneath the water.
The 60-year-old said his picture had been verified by a team of US military monster hunters and claimed it was the best picture of Nessie ever taken.
He said: "I was just about to return to Temple Pier and I went to the back of the boat which was facing the pier and that's when I saw it.
"I'm convinced I was seeing Nessie as I believe in these creatures. Far too many people have being seeing them for far too long."
Mr Edwards spends up to 60 hours a week on the loch operating tours on his boat, Nessie Hunter IV and taking photographs.
After taking the picture he tried to locate the monster underwater, but without success.
He added: "I hung around for a good half-an-hour and used the deep scanning sonar to try and pick it up, but I'm afraid I had no luck at all."