Charity swimmers forced to postpone 60-mile St Kilda crossing
The nine-strong team had to put Friday's swim on hold again because of poor weather.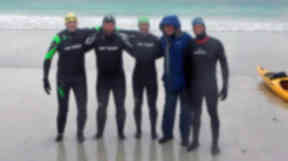 A group of charity swimmers have again been forced to postpone their plans for a 60-mile crossing to St Kilda.
The team put Friday's attempt on hold again when the necessary 48-hour window of clear weather never materialised.
But calm seas are forecast from Tuesday until Friday and the group hope to make the crossing next week instead.
They would be the first people to swim to the remote island, which sits around 40 miles west of Benbecula in the Outer Hebrides.
Swimmer John Dyer said: "The original weather window we had was tight - it was only for 48-hours. We arrived last night and within a few hours the window closed to 24 hours, which isn't enough for the crossing.
"The early hours of Tuesday morning to Friday are looking much better and that gives us a wider window to cross in.
"We're going to stay in Storoway and see how it turns out before crossing to Uig and then our setting-off point at Hushinish.
"It just emphasises to why this has never been done before. Lots of people have swam the Channel but they don't face the conditions we face."
The athletes had to turn back after 22 miles during their last attempt in June 2014, when they faced unexpectedly rough seas. Plans for an attempt in May this year were called off because of poor weather conditions.
The team have raised around £12,000 for Yorkhill Children's Charity, Aberlour, the Leanne Fund and the Fishermen's Mission.