Storm Abigail shuts schools as 84mph gales batter parts of Scotland
Scotland has been worst hit by the strong gusts and all schools on Shetland and the Western Isles have had to close.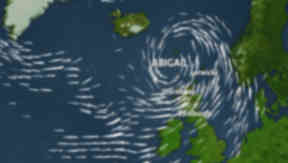 Storm Abigail has sparked major disruption with power cuts and school closures as gale force winds batter Scotland.
Schools in Shetland and the Western Isles were forced to shut after 84mph gusts swept across the country on Thursday evening and Friday morning.
The Outer Hebrides were the first to be hit by Abigail and widespread flooding caused by heavy rain was reported in coastal areas.
More than 20,000 homes across the west of Scotland and the Highlands and Islands suffered power cuts, including 1000 on Lewis.
Around 500 houses were still without electricity on Friday afternoon following a series of lightning strikes to the network.
Yellow and amber Met Office weather warnings issued for northern and western Scotland were called off on Friday morning.
Ferries on the west coast Clyde and Hebrides network were heavily disrupted, with the vast majority of CalMac services cancelled or disrupted.
The storm peaked in the early hours of Friday morning, with wind speeds of 79mph detected on the island of Sule Skerry, west of Orkney.
Train operator ScotRail reported was minor disruption on routes from Glasgow to Carlisle/Newcastle, Glasgow to Ardrossan/Ayr/Largs and Kilmarnock to Ayr.
The Forth Road Bridge was closed to high-sided vehicles, cars with trailers, caravans, motorcycles, bicycles and pedestrians and high wind warnings were in place for the Erskine and Kessock bridges.
Motorists were warned about surface water on roads including the the M90 and M74 and routes in Dumfries and Galloway were affected by fallen trees.
The Scottish Environment Protection Agency has warned of the risk of flooding over the next few days.
Duty flood manager David Faichney said: "The weather system will create a storm surge that is due to coincide with high tide into the early hours of Friday morning along the south-west and west coast.
"This, combined with the high winds, is likely to result in spray and wave overtopping along the exposed coastline in Dumfries and Galloway, Ayrshire and Arran, west central Scotland, and Argyll and Bute, which may impact roads and properties in coastal areas.
"Coastal flood impacts are also possible along the Moray coast and in Shetland, Orkney, Skye and Lochaber, Wester Ross, Caithness and Sutherland, and the Western Isles during Friday morning."
RAC spokesman Simon Williams added: "Strong, sudden gusts of wind can be very dangerous for motorists driving in exposed areas so we are urging motorists not to be caught out by Storm Abigail.
"The 'invisible' force of the wind can lead to vehicles unexpectedly being knocked off course, sometimes with devastating consequences."