Loganair 'meeting EU safety standards' despite pilot concerns
The Civil Aviation Authority told politicians that Loganair meets European safety requirements.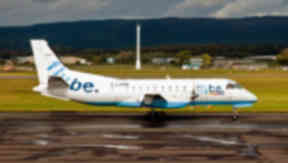 The Civil Aviation Authority says Loganair is meeting EU safety standards despite concerns from pilots.
The British Airline Pilots Association (Balpa) made a series of claims relating to the safety of Loganair's aircraft last month.
They included allegations that some were "unserviceable" and that planes had "defects that clearly affect flight safety".
Within days, two Loganair aircraft bound for Scottish airports were forced to make emergency landings and a third was found to have a cracked propeller moments before it was due to fly out of Stornoway.
On Monday, Alistair Carmichael MP, Tavish Scott MSP and Liam McArthur MSP met senior figures within the CAA to discuss Loganair.
In a joint statement, the politicians said: "The CAA clarified to us that Loganair's services meet European safety requirements.
"They further confirmed that the CAA remains in close contact with all commercial airlines, including Loganair, on a continual basis to provide safety oversight and advice. Loganair has acknowledged that improving reliability of their services is an absolute priority.
"This will, of course, require action on a number of fronts. In the meantime, we remain determined to keep representing the interests and views of our constituents, who depend on these lifeline services."