Fish farm lice failure posing 'massive threat' to sea life
Rise in lice from fish farms poses a 'massive threat' to wild salmon and sea trout claims S&TCS.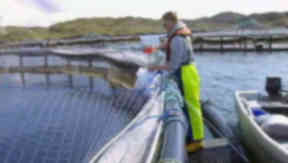 The failure of fish farms to manage sea lice poses a "massive threat" to wild salmon and sea trout, claims a marine conservation body.
Salmon and Trout Conservation Scotland (S&TCS) is calling for the Scottish Government to urgently strengthen regulations to prevent further damage to already depleted wild fish populations.
The organisation has published a report into the control of sea lice on fish farms in Scotland over the last two years, which it claims prove that current regulations to manage sea lice are ineffective and that the situation is a "disaster" for wild salmon and trout.
Research shows that the lice pose a risk of further harm at an individual and at a population level to the wild fish.
The report shows that between 2013 and 2015, the number of fish farming regions failing to keep adult female sea lice numbers below the industry's voluntary Code of Good Practice threshold is on an upward trend.
Andrew Graham-Stewart, director of S&TCS, said: "The Scottish Government is aware that wild salmonids in the aquaculture zone on the west coast are already in deep trouble.
"The shocking findings of the S&TCS report mean that the current business as usual approach of Scottish Government towards salmon farming is no longer sustainable.
"Quite apart from the obligation the Scottish Government should feel to protect wild salmon and sea trout, as iconic wild species, Scotland has international responsibilities to comply with European law and to meet its commitments that it has made to other North Atlantic nations to protect Atlantic salmon.
"We believe that the Scottish Government has no choice now but to act to increase the protection of wild salmonid species of international significance and take a lead among fish-farming nations.
"Lets hope it can raise its game to do just that."
The study also found that regions which produce the most farmed salmon are the worst offenders, in terms of meeting the Code of Good Practice lice threshold of 0.5 adult female lice per fish.
The readings were taken in May 2015, which is the peak wild smolt migration run and when wild fish are at their most vulnerable.
Mr Graham-Stewart continued: "What is concerning is that the data shows that in much of the production of farmed salmon in Scotland and the Western Isles, adult female sea lice counts per farmed fish have risen often to levels well above industry thresholds, where they often remain for many months.
"This is a disaster for wild salmon and sea trout.
"Nor does the use of wrasse as cleaner fish on some of the fish farms appear to be the panacea it is often held up to be.
"A number of regions appear to have experienced sea lice numbers persistently above Code of Good Practice thresholds, despite the use of wrasse as cleaner fish."
The S&TCS is calling for the Scottish Government to order the immediate publication of sea lice data, toughen regulations and make fish farm inspections more thorough, introduce an upper threshold for sea lice, above which a cull would be required by law, and review the current voluntary Code of Good Practice.
Download: The STV News app is Scotland's favourite and is available for iPhone from the App store and for Android from Google Play. Download it today and continue to enjoy STV News wherever you are.