Blaze at mansion formerly owned by Led Zeppelin's Jimmy Page
Boleskine House near Loch Ness was also once home to infamous occultist Aleister Crowley.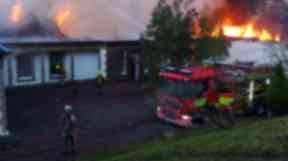 Firefighters are battling a blaze at a mansion formerly owned by Led Zeppelin guitarist Jimmy Page.
The fire broke out at Boleskine House on the south-eastern side of Loch Ness at around 1.40pm on Wednesday.
A large part of the mansion, which was also once home to occultist Aleister Crowley, has been destroyed.
Thirty firefighters were fighting to save the building's west wing on Wednesday afternoon.
A spokeswoman for the Scottish Fire and Rescue Service said: "A large part of the property has already been destroyed by fire and crews are concentrating their efforts on the west wing of the building.
"Crews in breathing apparatus are using four main jets to tackle the blaze and the incident is ongoing."
She added: "We understand the building was empty at the time of the call and nobody had to be evacuated."
Crowley, who became infamous for his involvement in the occult, lived at Boleskine House between 1899 and 1913.
Crowley memorabilia-collector Page bought Boleskine House in 1970 but spent less than six weeks there before selling the mansion in 1992.