Children excluded 1300 times over Scots school weapon attacks
A seven-year-old girl recently took a knife into a primary in the Highlands, it has emerged.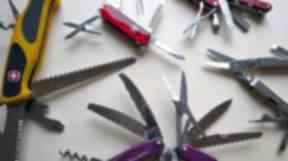 Children have been excluded from Scottish schools more than 1300 times for attacking other pupils and teachers with weapons in recent years.
The figures came to light after it emerged a seven-year-old girl recently took a penknife into a primary school in the Highlands.
It was not used to threaten or injure anyone at the school but police officers spoke to the girl's parents following the incident on February 18.
There were 1344 exclusions over assaults with weapons in Scottish schools in the financial years 2009-10, 2010-11, 2012-13 and 2014-15, according to Scottish Government data.
Figures for the years 2011-12 and 2013-14 were not made available.
The total does not include improvised weapons, which might include rulers, compasses or pens, and makes up around 1% of the number of exclusions from schools in Scotland each year.
Bailey Gwynne, 16, died after being stabbed through the heart at Cults Academy in Aberdeen in October last year.
His killer, who regularly carried a knife, was charged with murder but found guilty of culpable homicide at the High Court on Monday.
The teenager, who cannot be named for legal reasons, was also found guilty of carrying a knife and knuckledusters prior to the fatal stabbing and told police he had them to "be cool".
On Monday, Aberdeen City Council announced plans for an inquiry into Bailey's death but admitted no new child protection policies have been put in place as a result.
In an unrelated incident, a teenage boy was charged with carrying at a knife at an Aberdeenshire primary school last week.
Jim Thewliss, general secretary of School Leaders Scotland, said: "There's no more problem [with weapons] in schools than there is within society.
"Young people coming to school during the day are probably in the safest place they could be. They are there under the protection, under the guidance and under the supervision of adults."
A spokesman for the Scottish Government added: "Knife crime can have devastating consequences for families and communities and this government is determined to tackle it. Our thoughts and sympathies are with everyone affected by it.
"We take the issue of violence or the threat of violence in our schools extremely seriously and continue to work with schools and local authorities on anti-violence campaigns and curriculum programmes to reduce levels even further.
"However, it's important to note that the overwhelming majority of our pupils are well-behaved and our schools are very safe places.
"Local authorities have guidance and procedures in place to ensure the safety, health and wellbeing of children and young people. Teaching staff may call the police if they have any immediate concerns about a child."