World's biggest ice-climbing centre to reopen after blaze
Ice Factor has been closed since July after a fire destroyed part of the building.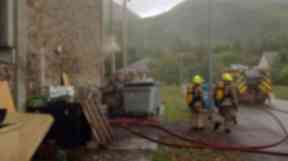 The world's biggest ice-climbing centre is to reopen eight months after a devastating blaze.
Ice Factor had expected to be back in business weeks after the fire on July 29 last year, which began in the building's sauna.
But the reopening was hit by a series of delays and the centre in Kinlochleven, Lochaber, stayed shut.
Owner Jamie Smith said: "It has taken almost eight months but after a huge effort by all of the team I'm proud to announce that an even bigger and better Ice Factor will reopen on March 18.
"I'd like to thank our many customers for their patience and we now look forward to welcoming them back before Easter for loads of vertical fun."
The blaze completely destroyed the Ice Factor's sauna and caused extensive smoke damage, forcing its owners to replace all 125 climbing routes.
An investigation by the Scottish Fire and Rescue Service found it was caused by the failure of a sauna heating element.
Ice Factor usually attracts more than 100,000 visitors every year.