National forest 'generates £395m for Scotland every year'
The National Forest Estate supports 11,000 jobs, according to Forest Enterprise Scotland.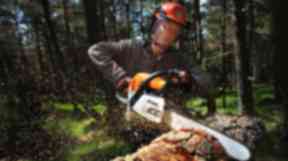 Scotland's national forest generates £395m every year for the country's economy, a new report says.
The National Forest Estate supports 11,000 jobs in the forestry, timber and tourism industries, Forest Enterprise Scotland found.
Around nine million visits are made to the estate every year, generating nearly £110m, the body reported.
By comparison, the whisky industry is worth around £5bn to Scotland's economy each year.
Environment minister Dr Aileen McLeod said: "The National Forest Estate is certainly one of Scotland's greatest natural assets. It is more relevant today than ever before as it provides so many different benefits to Scottish society.
"This new report will act as a valuable baseline for further assessments of how well the estate is working for Scotland's people and the economy."
The majority of the income generated by the national forest comes from timber production and forest management, followed by property sales, renewable energy, deer culling, and tourism.
The National Forest Estate was created nearly 100 years ago in an attempt to build up timber reserves after the First World War. It now covers around 650,000 hectares - 9% of Scotland's total landmass.