New action plan to tackle wildlife crime in Scotland
Partnership Against Wildlife Crime to highlight 'unacceptable' cost to natural heritage.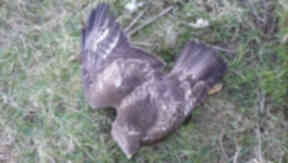 A new strategy aims to highlight the damage wildlife crime causes to Scotland's natural heritage.
The Partnership Against Wildlife Crime (PAW) will actively seek prosecution when it is committed.
PAW is a collective of 29 Scottish organisations including Police Scotland and Highland Council as well as fishery boards and gamekeepers' associations.
Chief inspector Colin Gough said: "Threats to our natural habitat through criminal activity and ignorance are not acceptable.
"The Highland PAW action plan supports a vision where our natural heritage is protected, individuals are educated about wildlife crime and there is a high level of awareness of the cost of wildlife crime and the loss of wildlife to our communities.
"Our strategy and action plan provides us with a focus for the next three years and places a degree of expectation on each partner to deliver tangible benefits in the commitment to address wildlife crime."
Chris Conroy, director of Ness District Salmon Fishery Board, said: "By raising awareness, enforcing the law and preventing the illegal exploitation of fish, we aim to maximise the numbers of salmon going on to spawn successfully, and in so doing safeguard the future of this important natural resource."
The most recent Scottish Government figures, released in September 2015, found there had been 255 recorded crimes against wildlife in 2013/14.
Most common was fish poaching, with 90 crimes recorded, while 29 instances of hunting using dogs were reported, along with 22 reports of cruelty to wild animals and 53 recorded crimes against wild birds.
Aberdeenshire and Moray were the areas where most crimes occurred, with 44 recoded incidents.