Robot wars: Drone trials to be staged during Nato operation
A total of 40 companies will test aerial and underwater technology this autumn.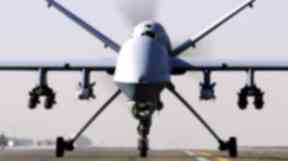 The Royal Navy's first "robot wars" will be held off the coast of Scotland later this year.
A total of 40 companies will show off the latest in aerial and underwater drone technology during the bi-annual Joint Warrior operation in October.
Drones will be tested on their ability to carry out anti-submarine warfare, surveillance and reconnaissance off the west coast during Operation Unmanned Warrior.
In a talk at the Underwater Defence and Security Conference, Royal Navy fleet robotics officer Peter Pipkin said the event was not a "bidding process" but an opportunity to highlight British industry.
He told delegates: "What we are seeking to achieve is an event that reshapes the market to provide new opportunities for everybody and show UK industry advancement in this area.
"Unmanned Warrior is going to provide a showcase for the demonstration of products in a tactically-relevant environment.
"The overall value will be in transforming the market as a whole by creating increased demand for these technologies, not seeking business opportunities within the event."
The UK's use of unmanned drones has proven controversial and concerns were raised after two British citizens was killed in Syria without parliamentary approval last year.
Abul Rakib Amin, who grew up in Aberdeen, was killed along with Cardiff-born Reyaad Khan in Raqqa on August 21.
Unmanned Warrior 2016 will be carried out during the first two weeks of October.
More than 30 warships and submarines, 60 aircraft and 6500 service personnel from 14 countries took part in the last UK-led Joint Warrior exercise in October last year, making it one of Nato's largest operations yet.
Last year, a US warship shot down a missile fired into space during a military exercise in the Western Isles.
The Terrier Orion rocket was destroyed by a missile fired from the USS Ross near the Hebrides Range on South Uist.