Paralympian to get on his bike after tumour ends Rio dream 
David Smith plans to cycle 400 miles across the French Alps when he recovers from surgery.
A Paralympic athlete whose dream of cycling in Rio was shattered by a life-threatening brain tumour is ready to take on his next challenge.
David Smith, 37, was left temporarily paralysed from the neck down after doctors removed a tennis ball-sized lump from his spine in 2010.
The Aviemore-born athlete went on to win a rowing gold medal at London 2012 after spending a month learning to walk again.
Mr Smith planned to switch to cycling to compete at Rio 2016 but in January he learned his tumour had grown back and risked cutting off his ability to breathe.
Surgeons removed the tumour for the third time earlier this month but the operation left Mr Smith struggling to move the left side of his body, ending his plans to compete in Brazil.
He said: "After coming round from nine hours of surgery the first thing I noticed was that I could not feel or move my left side.
"This was hard to register as I had walked into surgery fully fit and cycling 20 hours a week. To wake up and feel you have lost everything is scary."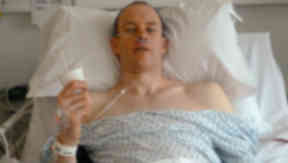 While recovering in hospital, Mr Smith learned about the Route des Grandes Alpes, a gruelling 400-mile cycle across 17 of the highest mountains in France, and set his mind on conquering the challenge.
He said: "For me this was the dream I needed that would give me the hope and desire to get out of my hospital bed, onto a bike and back into life.
"Planning this from my hospital bed has given me so much focus. I know every second of the ride will be mind-blowing."
Mr Smith plans to set off on his journey in September.
The multi-sports athlete, who was born with a club foot, had a successful international karate career before switching to bobsleigh to compete in the 2006 Winter Olympics.
He also worked as an assistant coach with the British Ski Team and participated in the World Rowing Championships before winning gold at London 2012.