Hygiene training at Highland hospital after bug outbreak
The roadshow was arranged after nearly 50 patients were struck by norovirus.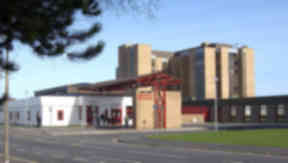 Patients and staff at a Highland hospital will be given hygiene training following a norovirus outbreak.
The roadshow at Raigmore in Inverness was arranged after four wards were closed at the end of February and the beginning of March due to the vomiting bug.
A total of 47 patients were affected by the virus, which can be controlled by washing hands.
All wards have reopened after being deep-cleaned.
From Monday, teams from NHS Highland will visit every ward at Raigmore to promote hand hygiene.
A "glowbox" will also allow staff to test their own cleanliness by putting their hands under ultraviolet light.
Ann Chalmers, infection prevention and control nurse, said the initiative aimed to "remind and re-educate" people on the importance of hand hygiene.
She said: "Keeping hands clean is one of the most important ways of preventing the spread of infection and illness.
"There are five moments when hands should be washed when you are with patients and we will be making sure that everyone is clear on those points."