Retired rescue helicopter could be yours for just £20,000
Stripped-down Sea Kings are being sold off and could become sheds or garden offices.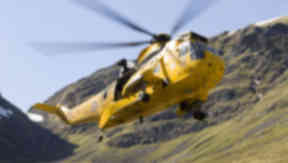 Rescue helicopters formerly used to save lives in Scotland's mountains are being sold off to be turned into sheds and garden offices.
The RAF's iconic "budgie yellow" Sea King fleet was mothballed in April 2015 and the Navy handed over responsibility for search and rescue operations in Scotland to Bristow on January 1.
Military surplus firm Witham Special Vehicles is now selling 40 used Ministry of Defence helicopters taken from bases across the UK.
The Sea Kings are being sold without engines but airworthy models are expected to fetch between £75,000 and £150,000. Stripped-down frames could still go for as much as £20,000.
Witham managing director Paul Southering said one buyer planned to put a sitting room inside their chopper.
He said: "You could use them as sheds or garden offices, they have a nice bit of space inside and you could let your imagination run wild.
"For airframes you would expect to pay between £10,000 and £20,000 but for one that's basically complete that you could get back flying again you would pay £75,000 to £150,000."
The Lincolnshire firm has three Sea Kings ready for sale, with all proceeds going to the Ministry of Defence.
The helicopters, which were on hand during disasters including Piper Alpha and the Lockerbie bombing, have been replaced by more modern Sikorsky S92s.