New Scottish Mountain Rescue chief vows to keep service free
Damon Powell says forcing climbers to pay to be rescued is not a practical solution.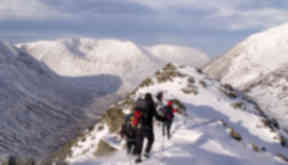 Climbers should not have to pay to be rescued from Scotland's hills, according the new head of Scottish Mountain Rescue.
Damon Powell said the increasing number of people visiting Scotland's mountains has led to a rise in the number of call-outs and put pressure on Scotland's 27 volunteer-led teams.
Mr Powell, who became chairman of Mountain Rescue Scotland last month after 12 years as leader of Oban Mountain Rescue Team, said the situation has left cash-strapped teams trapped in a "vicious cycle" but insisted forcing climbers to pay for rescue is not the answer.
He said: "Demand on mountain rescue teams is increasing and that's putting significant pressure on us.
"It leaves us with less time for training and maintenance - the more rescues we do the more money we need and the less time we have to raise it.
"But we're very proud that we're able to deliver mountain rescue as a free service and we will fight to maintain that.
"I don't think asking climbers to get insurance or forcing them to pay for rescues is a very practical solution - the regular hill-goers might get insurance but the vast majority of people are casual hillwalkers and climbers.
"It also worries us that people concerned about the cost of a rescue might not call. If people are in difficulty our job is to get them off the mountain as soon as possible."
The Scottish Government provides £312,000 of funding to the nation's mountain rescue teams every year, along with £179,000 for the Scottish Avalanche Information Service.
On Wednesday, it announced a further £24,000 one-time grant to upgrade radios used by rescue teams.
Mr Powell said: "The Scottish Government do a tremendous job and if you compare them to Westminster they really are ahead of the game.
"But that doesn't change the fact we need to resolve our funding issues because we are hard-up. We're probably the only emergency service where people are going out in equipment they've bought themselves."
Mountain rescue teams also receive significant backing from the charity Order of St John Scotland.
"We get an awful lot of support from the Order of St John and they've helped move us out of the garages, sheds and police stations and into our own buildings," Mr Powell said.
"They've helped us continue to operate as a world-class service. Before the Order of St John was involved my team were working out of a garage with three walls and a 20-year-old Land Rover.
"They've now got a lovely building in the centre of Oban and two Land Rovers."
When Scottish Mountain Rescue was founded in 1965, there were only around 60 incidents in Scotland's mountains each year but by 2012 this had risen to an average of 400 incidents.
Last year, volunteer mountain rescue teams were called out 533 times and spent nearly 22,000 hours in the hills.
Despite an increase in the number of incidents, mountain deaths have fallen significantly in recent years.
Mr Powell said new technologies like drones are changing the way mountain rescue operations are carried out.
He said: "Drones will have a use in future but I think it'll be fairly limited because of weather conditions in the mountains.
"But new technologies that enable us to track team members by their mobile phones and send texts to phones and get a grid reference back have been an invaluable help."
Mr Powell added: "Mountain rescue in Scotland is world-class and will remain world-class no matter what happens.
"The commitment from people involved is astonishing and that's the most rewarding thing about mountain rescue."