Ice axe found in search for couple missing for five weeks
Rachel Slater and Tim Newton were reported missing after a trip to Ben Nevis.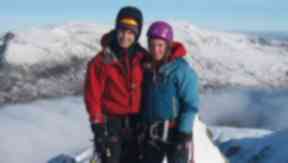 An ice axe has been found in an area where mountain rescuers have been searching for a missing couple since last month.
Rachel Slater, 24, and Tim Newton, 27, were reported missing after failing to return home from Ben Nevis on February 14.
The axe was found in the Boomer's Requiem area of the mountain last week.
Lochaber Mountain Rescue Team has asked anyone who may have lost an axe in the region to contact them.
Meanwhile, the Mountaineering Council of Scotland has urged people to be careful in Scotland's hills as the weather improves.
There are six people missing in the mountains, including three lost since last year; Tom Brown, Eric Cyl and Robin Garton, and three who vanished this year; Tim Newon, Rachel Slater and Jim Robertson.
Tom Brown's sister, Marjorie Ballantine, appealed to climbers and hillwalkers to ensure friends or family know where they are going before setting off.
She said: "My experience following the disappearance of my brother demonstrates how irresponsible it is to set off alone without indicating to anyone where you are going and the terrible implications for your family if you do unfortunately sustain a fatal accident and your body is never recovered.
"People like to be free to roam, but they generally have a good idea of one's objective for a day. When a person goes missing the relatives are faced with awful uncertainty and grief.
"There's also a legislative process of immense complexity to deal with.
"While the aftermath is bad enough, the next of kin are unable to administer the financial situation of their missing relative, due to legal issues, and they suffer financial hardship while lacking information about the actions they are able to take in relation to the missing person's property."
Jim Robertson's family has raised nearly £10,000 for Braemar Mountain Rescue Team, which has led the search for the 61-year-old.
His daughter, Lynn Robertson, said: "An immense amount of work has been done by Braemar MRT to establish the likely circumstances in which our beloved dad went missing.
"It is likely he left Bob Scott's Bothy early on the morning on March 2, two days before his 61st birthday, headed to Ben Macdui. It is likely that he has had a tragic accident and has succumbed to the elements somewhere on the mountain.
"Setting up this page is our way of sharing our deepest heartfelt thanks for the volunteers of Braemar MRT."
She added: "We are now hoping that they can recover our dad's body and bring him home to us, say our final goodbyes and return him to the hills, where he belongs."