Flagship Highland hospital to get £28m critical care upgrade
A new operating theatre will be built at Raigmore Hospital in Inverness by late 2018.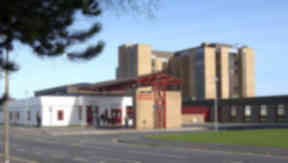 A total of £28m is set to be invested in critical care services at Raigmore Hospital over the next three years.
A new operating theatre will be built at the Inverness infirmary and nine others will be refurbished, NHS Highland said.
The intensive care unit, surgical high dependency units and acute medical assessment centres will be brought under one roof at Raigmore as a result of the Scottish Government's investment.
Ron Coggins, clinical director at Raigmore's surgical and anaesthetics division, said: "This will not only greatly improve the facilities but also provides an opportunity to co-locate wards and ensure that first-class healthcare can be delivered in modern facilities for years to come.
"Having critical care services over the two floors will not only allow best use of space and staff but it will also improve patient flow in the hospital and the privacy and dignity of our patients."
The work is set to start next month and is expected to be completed by the end of 2018.
NHS Highland also recently secured £29m from the Scottish Government to build new hospitals in Aviemore and Skye.