Seafood firm's £80m fish feed plant plans revealed
The facility could open in 2018 and would create up to 55 full-time jobs on Skye.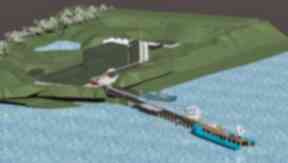 Seafood firm Marine Harvest wants to build an £80m fish feed plant on Skye.
The Norwegian company settled on a former quarry at Kyleakin after considering a number of sites on the west coast of Scotland.
It could be up and running by 2018 and would create 55 full-time jobs, Marine Harvest said.
The company cut 80 jobs in Scotland earlier this year, including 11 in Skye and 44 in Lochaber.
Ben Hadfield, managing director of Marine Harvest Scotland, said: "We are delighted to have found a site which sits at the heart of our operations – one that is already an industrial site but which has not been fully utilised for some time.
"We would like to have the chance to bring it back to life and provide well paid jobs, as well as taking the opportunity to produce our feed in the most sustainable way.
"This is a large investment in Scotland and the development of a feed plant here is part of our overall drive to become a more efficient and sustainable business.
"We hope this will be a major boost for the local economy and we are keen to start discussions with the local community and hear their views about our proposals."
Public exhibitions will be held in Kyleakin on April 18 and 19 before a formal planning application is made.