Erin Brockovich wades into Highland drinking water row
The environmental campaigner says Scottish Water's plans are a 'dirty trick'.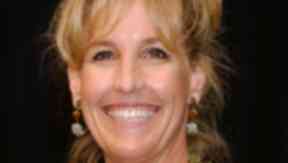 Environmental activist Erin Brockovich has branded plans to add a cocktail of ammonia and chlorine to the drinking water of 10,000 Scottish homes a "dirty trick".
Ms Brockovich, whose fight against the Pacific Gas and Electric Company was turned into a film starring Julia Roberts, said the chemicals would not solve problems with foul smelling and irritating water faced by residents in Spey Valley, Highlands.
But Scottish Water insisted its plan to chloraminate the supply to thousands of homes will improve the situation by reducing the amount of chlorine and introducing ammonia into the water.
Ms Brockovich said: "Scottish Water's plans to improve [the water] by adding a cocktail of ammonia and chlorine is just a dirty trick.
"Adding ammonia to drinking water does not improve it. It masks the underlying problems and contaminants."
Spey Valley residents allege that water quality dipped after Scottish Water opened a new treatment plant at Aviemore in 2012 and began using underground supplies but Scottish Water said the facility has "improved the quality of tap water delivered to more than 10,000 homes in Badenoch and Strathspey".
The firm said a "small number of customers found chlorine levels not to their taste".
Simon Parsons, strategic customer planning director for Scottish Water, said: "I would like to clarify that the water we provide to more than 10,000 properties in the Aviemore area is high-quality and 100% compliant with strict water quality standards.
"We do recognise that a small number of customers have found the chlorine levels - necessary to ensure the water safe – not to their taste.
"That's why we are engaging with customers on further enhancements to the treatment process to ensure everyone in the area enjoy the look and taste of their quality drinking water.
"This process is widely practiced across the UK, including for many of our customers in Inverness, Aberdeen, Edinburgh and other parts of the Highlands and Islands who receive this high-quality drinking water."
Chloramines last longer than chlorine and have "no significant taste or odour", according to Scottish Water. The company said the process is already used in around one in four homes north of the border.