Climber left dangling by his ankle after mountain tumble
Oban Mountain Rescue Team said the incident could have been much more serious.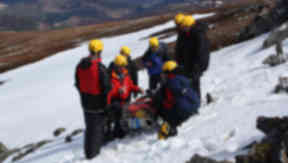 A climber was saved by mountain rescuers after a tumble left him hanging upside down by his ankle.
Oban Mountain Rescue Team were dispatched when the man tripped and got caught on a rock while climbing Drochaid Ghlas on Sunday evening.
The man was not seriously injured but Oban MRT chairman Ross Lilley said the accident could have been much more serious.
He said: "Two men in their 50s came off the Drochaid Ghlas last night and ended up on steep ground. One of them fell over but luckily his foot got stuck in a rock and that stopped him going down the slope.
"It could potentially have been a fall of a few hundred metres but he was essentially left hanging there.
"His companion had gone on ahead but then realised what had happened and raised the alarm by calling 999."
The team carried the man off the mountain on a stretcher as bad weather prevented a helicopter rescue.