Sunburnt dolphin making good recovery as wounds heal
Spirtle was found with severe sunburn after beaching on mudflats in the Cromarty Firth.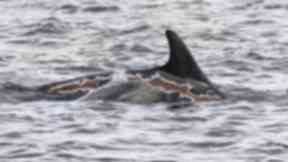 A dolphin which suffered severe sunburn after becoming stranded in the Highlands is showing signs that its wounds are healing.
Spirtle was rescued after spending around 24 hours on mudflats on the Cromarty Firth in May this year.
The four-year-old cetacean was eventually led back out to sea at high tide after being discovered by chance by a couple who were driving to a dolphin-watching area.
Marine experts were unsure if the young mammal would recover from her injuries.
But new images taken by Whale and Dolphin Conservation field officer Charlie Phillips showed the animal is making a good recovery.
The picture, released on Wednesday, showed the Spirtle 'babysitting' her sister's calf, displaying a major improvement in her skin condition.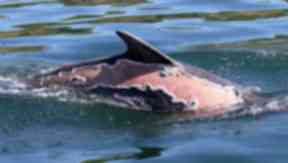 In July, a team from Aberdeen University spotted her 150 miles from shore by a team from Aberdeen, where she looked to be showing the early signs of healing.
Spirtle is one of a number of resident bottlenose dolphins who are regularly monitored by researchers from the university and the Scottish Marine Animal Strandings Scheme based in Inverness.