Tourism group sets sights on country sports enthusiasts
Organisation wants to attract more women and young people to rural sports in Scotland.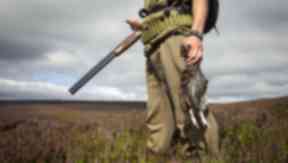 An organisation representing country sports wants to make Scotland the world's top destination for hunting, shooting and fishing.
The Scottish Country Sports Tourism Group (SCSTG) hopes to boost their value to the economy by £30m over the next three years to £185m.
It also aims to attract more women and young people to rural sports and dispel "perceptions of elitism".
SCSTG chairwoman Sarah Troughton said: "Our vision for Scotland's fishing, shooting and stalking industry is that it will become the global country sport tourism destination of choice known for its sustainable, premium quality and diverse Scottish offering, unsurpassed by any other country in the world.
"The current value of country sports tourism in Scotland stands at £155m and our ambitious growth target to reach £185m by 2020 will be underpinned by greater industry collaboration, including VisitScotland, and engaging in an international awareness campaign to develop overseas markets.
"Scotland's sporting pursuits are truly world class and now is the time exploit its offering and realise its true potential."
A grouse shooting expert described the 2016 season, which ended on December 10, as "mixed" but said worldwide demand remains strong.
Robert Rattray, of CKD Galbraith's Sporting Lets, said: "The unpredictability of grouse shooting reinforces that it is a sustainable and responsibly managed harvest of a natural resource found only in the UK, which seems to only increase the allure for sporting tourists.
"The demand from all over the world to partake when the 'game is on' remains consistently strong."
Grouse shooting is controversial and more than 120,000 people signed a petition earlier this year calling for the sport to be banned in the UK.
Opponents claim shooting creates unnecessary suffering, causes the deaths of protected species and damages the environment.
The League Against Cruel Sports (LACS) believes its benefit to the economy is exaggerated.
'Surely it's better to boost the economy through [...] enjoying the beautiful spectacle of Scotland's live wildlife than [...] killing its wild animals.'

Jordi Casamitjana, League Against Cruel Sports
LACS head of policy Jordi Casamitjana said: "Killing our wildlife for profit - which is what field sports are all about - is morally and environmentally unacceptable. But there is a much better alternative - enjoying wildlife while it is still alive.
"Research commissioned by the Scottish Government in 2010 showed that wildlife tourism in Scotland was worth £276m a year.
"For example, in 2011 the RSPB found that reintroduced white-tailed eagles brought £5m of tourist money into the Isle of Mull economy alone every year, supporting 110 full time jobs.
"Surely it's better to boost the economy through the majority enjoying the beautiful spectacle of Scotland's live wildlife, than a minority of bloodsports enthusiasts contributing little to public pot by killing its wild animals."
'We have no issue with legal, sustainably-managed shooting.'

RSPB spokesman
RSPB spokesman James Reyonlds said: "While we recognise that game shooting can play an important role in rural economies, some current systems of land management for this purpose are unsustainable, and are having a significant detrimental impact on Scotland's natural heritage and the benefits it provides to society.
"There has been, in many places, a focus on maximising populations of potential quarry species and this has caused considerable damage to sensitive upland habitats through overgrazing by deer, and the continued systematic illegal killing of protected birds of prey such as golden eagles on land managed for intensive driven grouse shooting.
"We have no issue with legal, sustainably-managed shooting. However, self-regulation by sporting estates has been failing for years, and is clear that more effective regulation of deer management and licensing of intensive systems of game bird shooting are the only ways of ensuring Scotland's countryside is managed for everyone's benefit."
Download: The STV News app is Scotland's favourite and is available for iPhone from the App store and for Android from Google Play. Download it today and continue to enjoy STV News wherever you are.