Lost sheepdog rescued from gorge by abseiling rescuers
Working dog Nell had been missing for 12 days from a croft in Inverness-shire.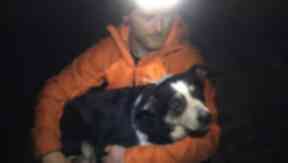 A sheepdog missing for almost two weeks is safe and well after mountain rescuers abseiled into a mountain gorge where she was stuck.
Twelve-year-old Nell had gone missing from a local croft 12 days before she was recovered from the Monessie Gorge, on the River Spean at Roybridge, in Inverness-shire.
She was spotted by a member of the public who alerted Lochaber mountain rescue team members who dropped into the gorge on abseil ropes to bring her to safety.
After some coaxing, they were able to carry her out of the gorge and she was reunited with her owner.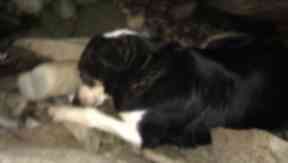 In a Facebook post, Lochaber Mountain Rescue Team said: "She was spotted tonight by a member of public near the foot of the gorge.
"To get to the dog the team had to abseil down into the gorge over the River Spean.
"She was a bit timid but after a wee bit of smooth-talking and a dog biscuit she was coaxed out of her lair.
"Apart for being a wee bit smelly, sorry for herself and hungry, she does not seem to be any worse for her experience."