Butcher's dummy ordered off street over safety fears
Calum-Angus has stood on an Ullapool pavement for over 20 years.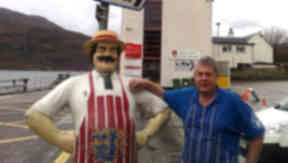 A 7ft butcher's dummy has been given the chop – for being deemed a danger to the public.
The cheery mannequin, which has stood on an Ullapool pavement for 20 years, has been branded a safety hazard and ordered indoors.
Calum-Angus, as the model is affectionately known, used to stand outside David Gordon's *Food for Thought *butcher shop in the town's Shore Street.
But roads authority Scotland TranServ has now ordered that he be removed because the dummy is an obstruction.
They say that Mr Gordon is committing an offence by allowing the statue to stand on the pavement next to the A893 trunk road.
Locals are so upset that youngsters from a neighbourhood school have launched a campaign, Free the Ullapool One.
Mr Gordon said: "Calum-Angus is the most photographed thing in Ullapool. He's very famous and is in photographs all over the world.
"He's stood there for 20 years and never harmed anybody, apart from giving the occasional cheeky wink, and now he's got an Asbo. It's pathetic really."
The butcher added: "He's tied to the pole that directs people to the public toilets so people would have to move out of the way for the pole anyway. There is ample room on the pavement for wheelchairs, prams and so on.
Scotland TranServ has told Mr Gordon that if he doesn't remove Calum-Angus, it will remove him itself.
"It is stupid because the pavement is littered with council wheelie bins, but they are not considered an obstruction."
Mr Gordon said: "Some local youngsters are planning to start an online campaign tosave Calum-Angus and are asking guest houses and B&Bs to let their visitors know about the plan so that they can add their names.
"I hope it won't be the end for Calum-Angus. He brought a bit of colour to the village and a smile to people's faces."
Lochbroom Community Council has written to Transport Scotland, on whose behalf Scotland TranServ are acting, urging them to adopt a common sense approach.
Secretary Kathy Ross said: "We said we were appalled at the high-handed way they went about it. There was no consultation or warning whatsoever. People were merely sent these official notices.
Cathel Macaskill, of Scotland TranServ, said Calum-Angus was classed as 'street furniture' and required to be removed.
He added: "Many of these items have been erected without the necessary permission from Transport Scotland or Highland Council's planning authority.
"As such, these are considered detrimental to road safety and in some instances also cause an obstruction to footpaths."
Calum-Angus is considered an obstruction under Section 59 of the Roads (Scotland) Act 1984.