Brewers use their loaf creating beer from leftover bread
Thorough Bread beer is made from surplus loaves donated by the local Co-op.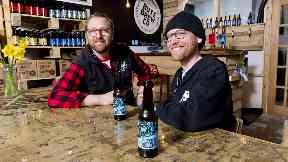 An island brewery is tackling food waste by making beer from leftover loaves of bread.
Bute Brew Co are using their loaf by utalising surplus bread donated from their local Co-op shop to create their 'Thorough Bread' brew - a 5.1% alcohol craft beer.
The remote microbrewery, based on the Isle of Bute, Argyll and Bute, collects the bread, cuts it and then toast it in pizza ovens, as part of the brewing process.
The bread replaces some of the malt that's normally used in the brewing process and has proved a hit with the locals.
Brewery owner Aidan Canavan said they were encouraged to take up the practice by Zero Waste Scotland in a bid to reduce the waste of bread on the island.
Adian, 40, said their new beer has "opened up our eyes to the issue of waste".
He said: "Our Thorough Bread beer came about through a discussion about the volume of bread that is wasted going to landfill here on the Isle of Bute.
"Because we are a tourist destination there needs to be enough bread made for all the weekend visitors.
"But if the weather is particularly bad and the visitors don't come, bread sales drop and that bread goes to landfill."
The brewers were also inspired by chef Jamie Oliver who featured on a TV programme using stale bread to make beer.
Aidan added: "We had a pretty tight brew schedule and the bread beer is quite intensive.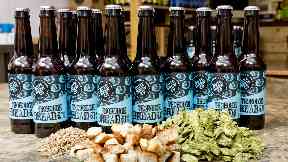 "The bread needs to be gathered and cut, then we toast it in our pizza ovens at the end of the weekend."
He said: "The result was great. The beer had another depth of flavour brought by the toasted sugars in the bread.
"So now we have a really good tasting beer and it really took off in our tap room.
"Customers loved the circular economy story and loved the beer.
"The first batch disappeared much quicker that's we imagined and customers were asking for more.
"It takes a month to make beer so we now had a pressure to make it from a new source, the customers.
"But we didn't just get a great new beer with a great story out of this, it also opened up our eyes to the issue of waste.
"Because we are on an island with a defined border around us we are more aware of things that are brought on to the island need to be shipped off when no longer of use.
"So if we can reduce the amount we need to ship back off in the form of waste, we reduce our costs."
Download: The STV News app is Scotland's favourite and is available for iPhone from the App store and for Android from Google Play. Download it today and continue to enjoy STV News wherever you are.