Fair Isle switches on 24-hour power for the first time
The 55 residents on the remote outpost have had power only between 7.30am and 11.30pm.
Reporting by Ben Philip
One of Scotland's most remote communities has 24-hour power for the first time.
The 55 residents on Fair Isle, a three-mile rocky terrain situated halfway between Orkney and Shetland, currently only have electricity between 7.30am and 11.30pm.
Since the 1980s, Fair Isle has used a combination of wind and diesel to provide energy.
But now a new high-voltage network combines three 18m wind turbines, a ground-mounted solar system and battery storage facility.
In the event of low wind and sunlight, stored energy is activated to guarantee reliable power around the clock.
It's hoped the innovative system will encourage more people to move to Britain's most remote inhabited island.
Robert Mitchell, director of Fair Isle Electricity Company, said: "Several years ago we realised the island population was going into a slow decline, so we set up the Fair Isle Development Plan.
"Within that plan the concept came that if you want people to come live on the island, we have to improve the infrastructure.
"So what we've done is built an infrastructure which will sustain the island for the future and also give us the opportunity to build new houses.
"We hope this will encourage younger people to come and live on the island and enjoy the experience of Fair Isle, the quality of life and also take the opportunity to start new businesses."
The £3.5m project is being led by the local community and secured funding from organisations including the Scottish Government's Low Carbon Infrastructure Transition Programme (LCITP) and Highlands and Islands Enterprise (HIE).
Fiona Stirling, development manager at HIE, said: "Up until now electricity in Fair Isle has been curtailed, so this will give them the opportunity to enjoy the benefits that we enjoy on the mainland and hopefully it will be a big trigger for social and economic development as well."
She added: "Our role is to support communities like Fair Isle. We hope this will sustain the island into the future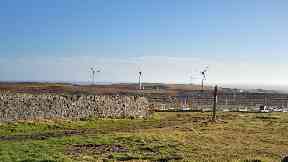 "This gives them a good piece of community infrastructure and a good foundation of which to build for the future and keep places like Fair Isle very much alive."
The three 60kW wind turbines were affectionately named after island folklore "trow" (fairies) by local school children - Lukki Minni, Grotti Finni and Tushie.
Energy minister Paul Wheelhouse said: "The reality of having, for the first time in their history, 24-hour supplies of electricity presents exciting prospects for the Fair Isle community.
"This development is yet another example of Scotland's ability to harness its renewable potential to build a sustainable energy future which will play a significant role in powering our future.
Growing up under candlelight
Eileen Thomson, 34, grew up in Fair Isle and her family have lived there for generations.
As a child, she remembers having electricity for only a few hours per day and having to light candles at night.
Eileen recently returned to Fair Isle to bring up her two young children after spending more than ten years on the mainland.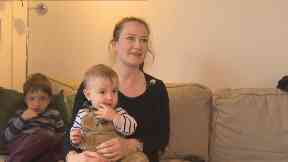 She said the switch-on of the new network would transform the island's future.
Eileen said: "For us living here day to day it means we can do things which most people on the mainland of Scotland just do without even thinking about it.
"We're quite a small community, but we're a strong one.
"I think this shows that we are trying to improve and develop.
"It's a struggle at the moment people moving to towns and cities and it can be quite hard to keep these communities going.
"It's a great life here and if this project helps encourage people to come here, then that's fantastic."
Download: The STV News app is Scotland's favourite and is available for iPhone from the App store and for Android from Google Play. Download it today and continue to enjoy STV News wherever you are.