Oysters extinct for over a century back in Dornoch Firth
Pioneering project sees entire reefs being created from waste scallop shells.
Oysters are being re-introduced to the Dornoch Firth in the Highlands over a century after they were fished to extinction.
For tens of thousands of years until the late 1800s there were huge amounts of oysters in the waters.
Now, for the first time anywhere in Europe, entire reefs are being created from waste scallop shells and more than 20,000 oysters will be placed inside.
However, as it is a marine protected area, the oysters won't be eaten and will instead be used to purify the water.
Osyters can filter up to 200 litres of water a day and it is hoped that their numbers will grow to around 200,000 in three years and up to four million in the next five years.
The nearby Glenmorangie Distillery is responsible for the project, which saw divers initially place 300 oysters to make sure they could survive.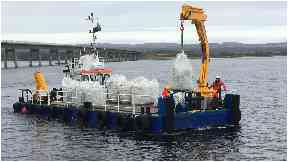 Hamish Torrie, of Glenmorangie, said: 'We are very encouraged by the enthusiastic support that our meticulous, research-led approach has received from a wide range of Scottish Government agencies and native oyster growers - it is a truly collaborative effort.
"We are all very proud that in our 175th year the distillery has such a pioneering environmental project right on its doorstep."
The long-term project is being watched carefully and the research being carried out could help conservationists around the world reintroduce oysters to other areas where reefs have become extinct.
Dr Bill Sanderson, associate professor of marine biodiversity at Heriot-Watt University, said: "This is the first time anyone has tried to recreate a natural European oyster habitat in a protected area.
"Working closely with Glenmorangie, we hope to create an outstanding environment for marine life in the Firth - and act as a driving force behind other oyster regeneration work across Europe."
Download: The STV News app is Scotland's favourite and is available for iPhone from the App store and for Android from Google Play. Download it today and continue to enjoy STV News wherever you are.