More than 100 NHS Highland workers lodge 'bullying' claims
The health board denies allegations of a 'systemic culture of bullying'.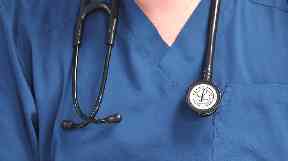 More than 100 health workers have come forward alleging to have been bullied at NHS Highland.
A group of doctors have called for a public inquiry into what they claim has been a decade long "severe bullying culture" at the health board.
The four medical professionals first made their claims last month and say since then they have received more than 100 cases of bullying and intimidation over the past ten years.
However, NHS Highland said its internal evidence paints a "very different picture" from what has been publicly alleged.
It said claims there was a systemic culture of bullying were not a "true representation of the facts".
Dr Iain Kennedy, one of the clinicians who made the claims, said: "We believe that NHS Highland probably has the most serious bullying issue of any public organisation in Scotland.
"I have to say that it's all down to the senior leadership that is in place within NHS Highland and has been in place for the past ten years. The senior leadership sets the culture of an organisation."
They claim that the only way that health workers' "pain and distress" could be heard was through a public inquiry.
Gavin Smith from the GMB Union said: "We need an external public inquiry. NHS Highland cannot be marking its own homework."
However, in a strongly worded statement, NHS Highland said it was being "publicly torn apart" with "little right to reply".
It said an offer to meet the four clinicians remained open but said there was "ongoing frustration" that it was being denied "any substance to the accusations".
It said: "We recognise the utmost seriousness of the situation and are prepared to leave no stone unturned to get to the truth.
"There is clearly an issue of some sort which needs to be understood.
"We are of the firm opinion that it is surely in everyone's interest for any allegations to be addressed as a matter of urgency."
Download: The STV News app is Scotland's favourite and is available for iPhone from the App store and for Android from Google Play. Download it today and continue to enjoy STV News wherever you are.