Woman died from brain tumour months after given all-clear
Heartbroken parents speak to STV News after apology and compensation from health board.
By Iain Ramage
A woman died from a brain tumour two months after being given the all-clear.
Amanda Robertson's heartbroken parents have now had an apology and been granted compensation after doctors at Raigmore Hospital in Inverness failed to diagnose the fatal illness.
They told STV News of their pain and anger, four years after daughter Amanda, 40, died at home in Alness following months of agony.
If an operation had taken place even just weeks before her death, she would have had a 90 per cent chance of recovery.
Her mum Caroline said: "Amanda would still be alive if staff at Raigmore simply did their job. As far as we're concerned NHS Highland killed our daughter and ripped our world apart."
Amanda, who was disabled, was sent home with painkillers after her first visit to doctors in December 2013.
During repeated visits to hospital, a CT scan was finally carried out in July the following year - but she was given the all-clear.
The pain continued and a more detailed MRI scan was eventually booked for September 8 - however, Amanda died six days before it could take place.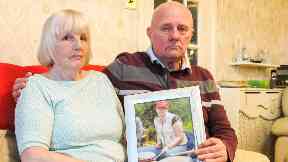 Her cause of death was confirmed as a tumour on the central nervous system in her brain.
Caroline, 71, told STV News: "It's hard enough dealing with the death of your child but when it's caused by the very professionals who are there to help, then it makes it all the worse.
"She was sick on the morning we took her home and the medication the neurologist put her on wasn't working, nothing was working.
"It was on the CT scan and they missed it. If they'd have seen it then she'd still be here or they'd have given her a fighting chance."
The family went to the Scottish Public Services Ombudsman (SPSO) which upheld their complaint, stating that medics should have spotted the tumour.
Mrs Robertson continued: "I was incensed, enraged, that nobody would listen.
"On the day she got buried she should have had her MRI scan.
"Two weeks later, somebody from Raigmore phoned me and asked why she hadn't turned up. That triggered something in me."
The family have now won undisclosed damages and an apology from NHS Highland, which said it could not comment on individual cases.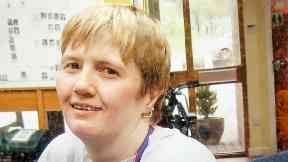 However, it did admit to a "deficit in care" and insisted lessons would be learned from 11 recommendations laid down following the SPSO investigation.
A report following the probe stated: "There is no doubt that if the tumour had been discovered in July or early August (2014) it would have been operable.
"In particular, the tumour in question is a benign tumour which is curable. If [Amanda] had been operated on, there would have been a 90 per cent chance of a full recovery."
A neurologist was investigated by the General Medical Council following Amanda's death, but the case was closed after advice was dished out.
Ms Robertson's father Monty, 71, a retired oil rig fabricator, told STV News: "We begged that neurologist for an MRI and he said there was no need - then he just left.
"The hospital had loads of chances and time to act but did nothing. We cannot allow this kind of flippant approach to healthcare to go unchecked.
'NHS Highland can no longer pretend to care about people - not when they refuse to help then drag innocent people through legal processes'

Monty Robertson
"Anyone who played a part in Amanda's death needs to be held to account, at the very least, so that standards improve and other families don't go through what we have.
"NHS Highland can no longer pretend to care about people - not when they refuse to help then drag innocent people through legal processes."
Sue Grant, a partner at Digby Brown Solicitors and head of clinical negligence, took on the family's case and secured compensation.
She said: "This was a very tragic and traumatic experience for the family.
"It would be inappropriate to comment on their case but I can confirm their civil action has now concluded and I hope they may now be able to rebuild their future."
Timeline
December 2013: Amanda told her GP she was suffering from headaches, nose bleeds, balance issues and a suspected lump in the back of her head.
February 2014: She was referred to a consultant who removed a nasal ulcer and suggested sinus issues were causing the headaches.
July 1, 2014: Amanda's headaches returned and specialist ordered CT scan.
July 14, 2014: Following CT scan, she was given the all-clear.
July 30, 2014: Amanda was readmitted to Raigmore Hospital suffering from vomiting and headaches, while her lips had turned white.
August 15, 2014: An NHS Highland neurologist diagnosed Amanda with a trapped nerve headache and scheduled her discharge. But on the morning she left hospital, she was violently sick again.
September, 2014: An MRI scan was finally arranged for September 8, but Amanda died six days before it could take place.
Download: The STV News app is Scotland's favourite and is available for iPhone from the App store and for Android from Google Play. Download it today and continue to enjoy STV News wherever you are.