Shetland celebrates 40 years of oil thanks to Sullom Voe
The terminal paved the way for the island's economy to be boosted after an oil find.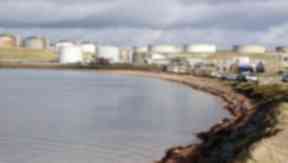 It has been 40 years since the first oil was brought onshore at Sullom Voe in Shetland.
On November 25, 1978 the delivery of the oil marked the beginning of a major change to the lives of those living in on the island.
In 1971, Shell discovered the massive Brent oil field in the waters north-east of Shetland.
The discovery paved the way for other finds to be uncovered in the area and it soon became clear that a pipeline was needed to transport the crude oil to the nearest landfall.
It led to the creation of Sullom Voe, a terminal which would help change Shetland forever.
"It's brought enormous prosperity to the island," explains councillor Andrea Manson from Sullom Voe Harbour Board.
"It's given people well paid jobs, it's given people nice houses, amazing roads, nice schools."
"We have an amazing infrastructure and most of that is down to the oil companies."
Sullom Voe derives its name from the Old Norse 'vagr' and means a small bay.
Between 1973 and 1982 it became one of the biggest construction sites in Europe, with up to 6,000 people employed to build the terminal, with vast amounts of peat cleared from the site.
Sullom Voe was officially opened by the Queen in May 1981 and although the crowds cheered as she arrived, the day would be notable for another reason.
The IRA detonated a bomb at the site but no-one was injured and only a boiler was damaged.
In the late 1990s at the height of North Sea oil boom, the terminal employed a workforce of around 500 and handled over a quarter of UK petroleum production.
Daily production rates are around 70,000 to 80,000 barrels of oil but it has a capacity for four times as much.
The terminal was operated by BP until December last year when EnQuest took over as the operator on behalf of 25 companies.
EnQuest wants to capitalise on new opportunities and ideas, although it admits the peak figures, obtained during the oil boom years, are unlikely to be recorded again.
The new managers hope to keep the terminal operating beyond 2030 but that in itself is 30 years longer than initial predictions.
And with BP last week announcing first oil production from the giant Clair Ridge project it could last even longer.
Clair feeds into Sullom Voe and the new project is designed for 40 years of production.
With that, Sullom Voe is likely to play a major role in Shetland's economy for a long time to come.
Download: The STV News app is Scotland's favourite and is available for iPhone from the App store and for Android from Google Play. Download it today and continue to enjoy STV News wherever you are.