Scottish wildcat on verge of extinction, report finds
Conservationists say the species is in its 'last chance saloon'.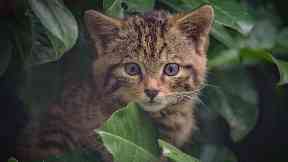 The roar of the 'Highland Tiger' is edging closer to silence.
The iconic Scottish wildcat - now ranked the UK's most endangered mammal - has reached the "last-chance saloon," according to experts.
A new report from a coalition of 20 conservation organisations paints a bleak picture but also offers a glimmer of hope.
The stark conclusion of the most comprehensive study of its type is that there is no longer a "viable wildcat population living wild in Scotland".
It is now thought that captive wildcat populations in wildlife parks could be key to the species' survival.
Andrew Kitchener, chairman of Scottish Wildcat Action which has led the latest research, said: "The status of the wildcat in the wild is much worse than we could have imagined. But the really encouraging thing is that we've got a very good captive breeding population of the wildcat and we can increase that population and use it to reinforce the very last wildcats that are in the wild."
The breed is on the edge of extinction because of limited food sources and persecution resulting in cross-breeding with domestic cats.
The Scottish Government regards the findings of international experts "a major challenge," and has pledged financial backing.
Environment secretary Roseanna Cunningham said: "What we've been doing over the years we had hoped would work.
"What we've been told is that what we've been doing is still not delivering what we wanted, so we're going to have to look at different solutions now."
There is an element of optimism and a plea for domestic cat owners to help.
David Barclay, of the Royal Zoological Society of Scotland, said: "Nine out of ten owners have their cats neutered and vaccinated. It's that last 10% - if those pet owners come on board and support this project and ensure the health and continued good welfare of their cat, then that will play a significant role."
Download: The STV News app is Scotland's favourite and is available for iPhone from the App store and for Android from Google Play. Download it today and continue to enjoy STV News wherever you are.