Dozens of new jobs as BiFab yard lands wind farm deal
82 jobs created after new owners win their first contract at BiFab yard on Isle of Lewis.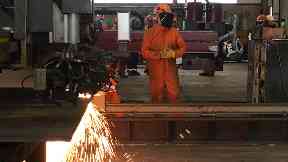 Dozens of jobs have been created on the Isle of Lewis after stricken manufacturing firm BiFab won its first contract under new ownership.
DF Barnes has been commissioned by GeoSea to produce pin piles worth up to £26.5m as part of the Moray East Offshore Windfarm development.
The firm said 82 jobs would be created at its yard in Arnish, with the project expected to take eight months.
Around 30 workers previously made redundant have been rehired by the firm.
However, hopes have diminished of BiFab securing a separate contract for its Fife yards to build marine turbine foundation jackets for Moray East.
The mothballed Methil and Burntisland sites are believed to have lost out on a contract to build 55 foundation jackets.
Cash flow problems brought BiFab to the brink of administration last year. Canadian firm DF Barnes then acquired it in a deal brokered by the Scottish Government.
Paul Wheelhouse MSP, minister for energy, connectivity and the islands, said: "The award of this contract is great news for BiFab and the wider Isle of Lewis community.
"The Scottish Government's continued support, and collaborative approach with DF Barnes, has helped secure, at peak, 82 good quality jobs for this yard.
"However, we have always been clear there remains hard work ahead to rebuild the pipeline of work for the business."
Construction on the Moray East Offshore Windfarm development began last year and promises to produce energy at half the price of power generated by other offshore windfarms.
Sean Power, vice president for business development at DF Barnes, told STV News: "We've been working flat-out to try to get to a day like today where we're back reopening the facility and cutting steel.
"So this is the first of the contracts that we've been able to win for BiFab. And it's certainly not the last, but it's very, very rewarding to be here today.
"But this is the first one. We want to focus on this, we want to celebrate this today, and then dig in again to get the other two yards open."
Worker Donald Macleod, 60, praised owners DF Barnes.
He said: "I hope that their venture over into this country will be successful for them, and that they will provide work for many in this yard for years to come."
Fellow worker Iain Macleod, 57, said he was glad to be back at work, but warned that more contracts will be needed to sustain the jobs.
He said: "Just glad to be back, and glad there is work coming into the yard.
"I hope it's a new start for this new company."
He added: "It's still good to get the work, but I think what this yard needs, and the other yards, is continuity of work.
"Because it's like a feast and a famine. You have work for a year, a year and a half, then the yard is closed for another year.
"It's just not good enough."
New start for troubled firm
Recently, contracts for renewable projects in Scotland have been awarded to overseas manufacturers, so landing such a lucrative deal is an impressive outcome and a desperately need boost for a company which nearly went bust 15 months ago.
However, it's understood BiFab has lost out on several other major contracts to international competition.
Mr Power said he wanted to make sure work remained at the Arnish yard for the long term.
He said: "We will get back up to 90 people with this project. We want to grow it to around 150 people if we can.
"We want to make sure we have another contract kicking in place before this one over to maintain the workforce."
He added: "There's been a lot of hard work getting this contract."
BiFab's reputation collapsed after "difficulties" with the last contract when it filed for administration before being rescued by a £15m loan pledge from the Scottish Government.
However, it faced legal battles over the Beatrice Offshore Windfarm in the Outer Moray Firth.
Mr Powers said: "We had to re-establish the credibility of the company... and we've got project control and management in place to prevent anything like that happening again.
"Then we had to convince developers we were ready to go. So, that's taken a while."
Building the pin piles will see the yard through until the autumn and there is hope that one of "several" energy project tenders BiFab is submitting will yield success to provide continuity of employment.
The firm said it was now "doubling down" to win work for its Methil and Burnisland yards.
Western Isles MSP Alasdair Allan said: "Arnish is an important economic asset for the island and I am delighted to see it officially re-open after a period when it had no work.
"82 jobs will have a big impact on an economy the size of Lewis. It is vitally important that we get a sustainable programme of work for Arnish that keeps people in secure employment for years to come.
"I know that the company is very attentive to this point and is working hard to source new contracts for the BiFab yards.
Western Isles Council said it strenuously lobbied to get the yard back up and running.
Council leader Roddie Mackay said: "We are delighted to see work start back at Arnish.
"Over the last year, we have spoken to management, various agencies and met the new owners.
"It is very encouraging to see that work with agencies including the Scottish Government is delivering a concrete result."
He pointed out: "All the discussions we have held with the new owners indicate they are keen to establish and grow the business and are looking to secure further work."
Download: The STV News app is Scotland's favourite and is available for iPhone from the App store and for Android from Google Play. Download it today and continue to enjoy STV News wherever you are.