Memorials to honour lifeboat crew who perished in capsizing
The crew of the Longhope died trying to reach the SS Irene, which had hit rocks in 1969.
By Iain Ramage
Memorial services will be held on Sunday to honour the crew of a lifeboat which capsized 50 years ago.
In 1969, the RNLI's Longhope rescue vessel sank in a storm off the coast of Orkney as it attempted to reach the SS Irene.
60-foot waves had engulfed Irene, sweeping the Liberian freighter onto rocks off the island of Hoy.
The force-nine gale upturned the Longhope as it attempted to reach the stricken boat.
While the crew of the Irene were ultimately rescued, the bodies of seven of the eight-strong RNLI crew were found in the capsized lifeboat the following day, the eighth presumed dead.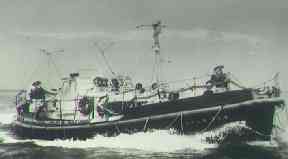 The anniversary will be especially poignant for the current rescue team leader and his wife, who both lost their fathers and four other relatives in the tragedy.
Kevin Kirkpatrick was just two when he lost his father, grandfather and uncle on the lifeboat.
The current coxswain of the Longhope said: "It's something we talk about from time to time. It affected a lot of people.
"It's never far from our thoughts but we just have to get on, and carry on, and that's what they would want us to do, after all.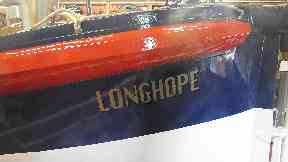 Kevin, who volunteered his services with the RNLI 30 years ago, added: "It's the one organisation that you get to help people and I don't think there's a better feeling than being able to go out and help somebody in distress."
His wife Karen also lost her father, grandfather and uncle on the lifeboat.
Their son Jack and daughter Stella are now also lifeboat volunteers.
Jack Kirkpatrick, 23, said: "It's always been in my family. I grew up with my dad on the lifeboat all the way through my life.
"So it's always been a pretty important part of our family, so it's always a natural progression to go and join the lifeboat when I was 17."
The vast shadow cast by the Longhope tragedy still lingers to this day.
Jack said: "It's huge, still within this community and still within Orkney and probably within most of the north of Scotland lifeboat stations.
"It's always been around us and we always celebrate [commemorate] it in some form, every year."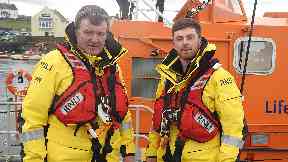 Five decades on, it's still raw for winchman Angus Heddle, who saw off the ill-fated lifeboat. Now 85, it's still fresh in his mind.
He said: "We usually went home and listened on the radio.
"We heard the calling but they never got any answer back from the boat - which we thought might just have been the aerials, which was quite a common thing, to lose contact in rough weather.
"It was only the next day that we heard what had happened, on the news."
Crewman Jimmie Swanson, whose body was never recovered, will be especially remembered at a Sunday service at his church at Canisbay, in Caithness.
While some Longhope anniversaries have been low-key, the 50th is likely to have added resonance.
"It's an emotional time for us all but I think, at the same time, it's quite important that it is remembered," Kevin added.
"It is a long time ago but there is still a lot of people here that remember it very well."
Lives lost in the Longhope disaster
Coxswain Daniel Kirkpatrick (59)
Second Coxswain James 'Jimmy' Johnston (30)
Bowman Daniel R Kirkpatrick (32)
Mechanic Robert Johnston (62)
Assistant Mechanic James 'Jimmie' Swanson (59)
Crew Member Robert 'Robbie' Johnston (27)
Crew Member John T Kirkpatrick (27)
Crew Member Eric McFadyen (24)
The men left behind seven widows and eight children.
Download: The STV News app is Scotland's favourite and is available for iPhone from the App store and for Android from Google Play. Download it today and continue to enjoy STV News wherever you are.