Rare Victoria Cross medals unveiled at Highlanders' Museum
Relatives travelled from near and far to see the unveiling near Inverness.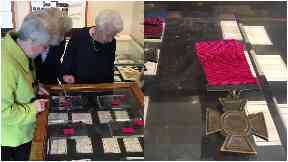 Relatives have travelled from near and far to see the unveiling of a rare, new collection of Victoria Cross medals awarded for outstanding bravery to Highland soldiers.
The priceless medals, Britain's highest honour for courage, are cast from a canon captured in the Crimean War.
In this rare showcase of sixteen Victoria Cross medals in one display, replicas have been replaced by the real thing to mark the 250th anniversary of Fort George.
The medals were unveiled at the Highlanders' Museum near Inverness.
Robert McBeath from Fraserburgh was commended for bravery in the Great War, only to be shot four years later while working as a policeman in Canada.
His great niece Marjorie Bunting, said: "Him and his partner stopped this car and the guy in the car had a gun, shot both of the policemen, and he was 22 years old. He'd hardly had a life."
A great nephew of Alexander Edwards from Lossiemouth, who died in action in 1915, also made the trip.
He said: "On occasions such as this where we get a chance to celebrate what he has done and achieved is a great thing. We're very happy to be here. it has made us quite proud that he's been recognised."
Herbert MacPherson, from nearby Ardersier, also died in action and Henry Ward, who lived in Inverness, served with the Highlanders.
George Sellar, from Keith, also fell on the battlefield and Major John Mackenzie, from Contin, had served with the Seaforths.
Major Maurice Gibson, from the Highlanders' Museum said: "It is quite unique to have so many on display at one time in one place and we're very grateful to families of all those VC winners to give these to the museum for ever and ever.
"They're beautiful things and they really do complement our collection which is one of the biggest outside London."
Fifty-thousand visitors converged on the Highlanders' Museum last year. The new addition is expected to draw even greater numbers.