Boy beats odds after plummeting from Highlands cliff, breaking both legs
Arthur Borgogno, from France, was with his mum Julie when he fell down the gorge.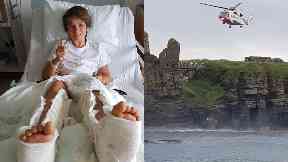 It started out as a peaceful Highland holiday but quickly turned into a nightmare, as 14-year-old Arthur Borgogno slipped and plummeted 15ft off a cliff and found himself stuck in rocky trap.
Both legs were broken. His mother was left watching helplessly from above as emergency crews scrambled to the seaside in a desperate bid to save his life.
The vacationing teen's plight was worsened by geography - the cliff he fell from was at Sinclair Castle near Wick and four hours away by car from the nearest medical facilities in Aberdeen that would be needed to save his life.
It took emergency staff more than two hours to free his foot from a crack, which was made more difficult by the fast approaching tide and the struggle to move him to a safe position.
Once the French boy was freed, a helicopter cut the travel time to Aberdeen considerably.
"The oxygen was gone from his foot and I was really worried he was going to lose it," mother Julie told STV News, adding she didn't think her son would actually step out onto the rock. She added: "But the doctor was fantastic and saved it."
It's the second time in less than a week that a tourist was threatened with death, after a Texas man needed to be extracted after sinking deep into the wet sand in Dumfries and Galloway over the weekend.
Several organisations helped save the teen. The coastguard, RNLI, police and ambulance services all raced to beat the clock. John Taylor of Wick RNLI Lifeboat said they wished him a quick recovery and said the call highlighted the strong teamwork amongst different services.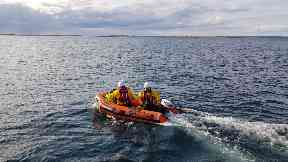 Arthur's story isn't over yet. He will likely require more surgery when he leaves Aberdeen and returns to France. The family also has a camper van left behind in Wick which needs to somehow be returned to Edinburgh.
In the meantime, he is spending his time playing video games.
"Arthur is recovering well, he plays video games from his bed. He loves Scotland so much now he actually wants to stay," Julie said. "We want to thank all the people involved. From the rescue teams in Wick, to the helicopter pilot who waved us goodbye, to the staff here, everyone has been so lovely and we are truly grateful."
While challenges await, the teen had a simple message to pass along - "Thank you for saving me."
An earlier version of this story suggested the teen's mother jokingly asked him to pose on a rock. This was a mistranslation.